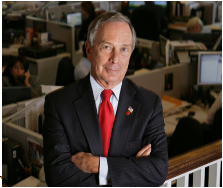 [1]
This man is proof positive that in America you can be a total jack ass and still be a billionaire
Below is the form letter he sent out to all the people who care about 3000 Americans being butchered on 9/11/2001
Read it in amazement : "Our Administration strongly supports the right of faith groups (Allah Akbar!) to open houses of worship, or community centers, in whatever location they choose, (even on top of the graves of the people they butchered) provided it complies with all applicable laws. New York has long been America's most tolerant and diverse City, welcoming the best, brightest, and hardest-working (and most subhuman) individuals from around the world – no matter their identity or beliefs." –
Think about what an asinine choice of words this is; " …no matter their identity or beliefs." in any serious debate nonetheless this one!!!
——– Here's the Original Email Message from Bloomberg ——–
Subject: Responding to your message
Date: Mon, 19 Jul 2010 11:43:20 -0400
From: <crmrepl@crm.nyc.gov>
To: <nsfwh@netscape.net>
Dear Friend:
Thank you for writing to share your thoughts and concerns about the proposed mosque and Islamic cultural center to be built at Park Place and Broadway in Lower Manhattan, several blocks north of the World Trade Center site.
Our Administration strongly supports the right of faith groups to open houses of worship, or community centers, in whatever location they choose, provided it complies with all applicable laws. New York has long been America's most tolerant and diverse City, welcoming the best, brightest, and hardest-working individuals from around the world – no matter their identity or beliefs. As a City, we win by choosing to uphold the principles of freedom and respect that lie at the foundation of this tradition – and that the terrorists attacked on September 11, 2001. Winning the war on terrorism requires us not only to defeat our enemies, at home and abroad, but also to continue upholding the values that make America great.
Last month, the local community board voted by an overwhelming margin (29-1) to endorse the project. Of course, the approval process has many steps yet before it is finalized, and many questions remain unanswered. I understand that this is a particularly sensitive issue, and I am hopeful that more dialogue about the center will increase the understanding and cooperation that is so integral to the vitality of New York City.
Thank you again for writing to share your opinions on this matter.
Sincerely,
Michael R. Bloomberg
Mayor
Please do not respond to this email. To submit a message to the Office of the Mayor, you may use the webform at http://www.nyc.gov/html/mail/html/mayor.html [2]