The intent of having a category on  Islam is to organize all the evidence of Islamic atrocities that occur on a daily basis.  There are many great sites that are dedicated to exposing this barbaric ideology.    They will be listed on the patriots Links page.  Four of the most complete resources are:
9/12/2013:  Muslims murder Christian family of five, including a 7-year-old boy, attacks on Christian villages continue
9/16/2013:  Muslim relatives murder three women in honor killing after one of them left her husband
9/16/2013:  Paris Muslims Assault Jewish Teens, 'Hitler Didn't Finish Job'
9/17/2013: Iraq: Sunni jihadists murder 31 people with car bombs after Shi'ites murder 17 Sunnis
9/20/2013:  "Jihad al-nikah, permitting extramarital sexual relations with multiple partners – a legitimate form of holy war."
9/21/2013: Muslims kill at least 75, wound 100+ in attack on Christian church in Pakistan
9/22/2013:  Nigeria: Death toll from latest Islamic jihad massacre rises to 161
10/02/2013: Jihadists in Syria attack ancient Christian town of Saidnaya
10/02/2013:  After bombing Christian church, Muslims harvested their organs
10/7/2013:  Muslim cleric: "If I were allowed to pray for a non-Muslim, I would have prayed for the soul of the Nazi leader, who barbecued [the Russians] and the Jews"
10/15/2013:  Obama-backed jihadist rebels proudly show off decapitated head of Syrian soldier
10/17/2013:  Pakistan Textbooks Teach Muslim Boys Killing Christians Is Way To Martyrdom
–  2014  –
 April 2014 Week No.2:
 

April 2014 Week No.3:
 May 2014 – Week No.1:
Four Muslims Gang Rape 7 Year Old Christian Girl So Brutally That She Must Go To The ER – A seven year old Christian girl in Pakistan, named Sara Iqbal, was gang raped by four Muslim men so brutally that she had to go to the hospital in critical condition.
Muslim Mob Takes Christian Man, Hangs Him By His Feet And Severely Tortures Him – A mob of 150 Muslims attacked a Christian man's home in Pakistan, seized him and then severely tortured him by hanging him by his feat and savagely beating him with sticks. The Christian man's name is Amanat Masih.
Egypt Cleric Issues Fatwa Allowing Wives to Get Raped – More of Islam's empowering of women.
Apparently the whole unforgiving honor code goes out the window when a man might be in danger.
Muslims Charge Into Hospital And Murder Sixteen People – Muslims in Central Africa charged into a hospital and opened fire, killing sixteen people, including three humanitarians working for the medical charity, Doctors Without Borders.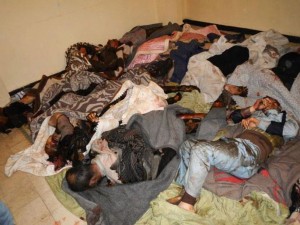 62% of all Deaths in Nigeria This Year Due to Islamic Murderers – Of the 2,596 people who died in Nigeria in the first three months of this year, 1,614, or 62%, were due to Boko Haram murders.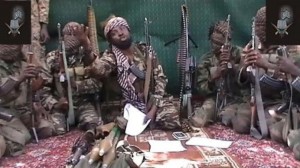 Arizona Muslim claims Islamic Law (sharia) gives him right to kill wife – The thing is, he's right. Sharia does give him that right.
Jihadist group 'crucifies' bodies to send message – Warning – This gallery contains graphic images. Hello! Wake Up Ignorant & Suicidal Western Civilization This is how Islam spends it's time after Friday 'prayer services' at the Mosque…
Philly: Muslim strangled pregnant girlfriend to death for not wearing hijab – Both mother and unborn baby were killed.  Jury selection started Monday morning in the case of a 28-year-old man who allegedly strangled his pregnant girlfriend inside a one-bedroom efficiency apartment …
Muslims Murder Christian Man Right In Front Of His Son, Drag His Body To The Mosque, Tie His Body And Mutilate Him – Three hundred homes, 100 businesses, 15 churches and about 10 Christian organizations were destroyed in my province…Christians in Egypt are expecting death at any time…
'Sex Jihad' Fatwa Permits Incest in Syria – "Saudi cleric Nasser al-'Umar issued a fatwa permitting mujahidin [jihadis] in Syria to have sex-jihad with their sisters if no one else is available.
May 2014 – Week No.2: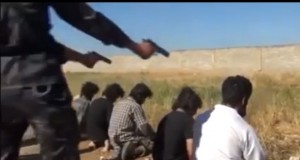 Muslims Shoot Innocent People, Behead Them While They Are In Agony, And Then Twist Their Heads Completely Off

–
But shooting the POWs wasn't enough, Sharia demanded they also get beheaded. So while the victims were dying, the terrorists hover over one victim and shouts: "quickly remove his head, remove his head, film it and show what we do to [Bashar] Al-Assad's dogs".
Graphic Video
Muslims Trap Human Beings In Markets And Stores, And Burn Them Alive – This happened in the most recently horrific attack on Christians in Nigeria, in which 300 people were slaughtered.
Two Muslims Cut Young Boy's Body Into Pieces, Cook His Flesh In Curry, And Eat Him – Two Pakistani brothers, Mohammad Arif Ali and Mohammad Farman Ali, were arrested after police caught the severed head of a young boy in their home.
May 2014 – Week No.3:
Muslims "cut hands, cut heads, play with corpses" Of Their Victims – A battle is occurring right now between Kurds and Muslims who are members of the Islamic State of Iraq and the Levant (ISIS), in the area of Kobani in northern Syria.
Muslims Take Christian Man As He Prays, "Blood of Jesus cover me." And Then They Shoot Him In The Face – Muslims took a Christian man in Nigeria named Nzeribe as he, with 13 other worshippers, was in church mourning the deaths of three Christians who were martyred, and made him into a hostage.
 Jihadists screaming "Allahu akbar" stormed church, started shooting everyone – Boko Haram wages jihad in the cause of Islam while shouting chanting "Allah Hu Akbar," or allah is greater (than your god). …
Florida: Muslim brothers jailed in jihad plot attack federal marshals – Two Oakland Park brothers, already accused of plotting to blow up famous New York landmarks, now face additional, less dramatic, charges: attacking federal marshals, …
Video: Muslim group says kidnapped Christian schoolgirls now Muslim – Boko Haram released a new video on Monday claiming to show the missing Nigerian schoolgirls, alleging the teenagers had converted to Islam and would not be released
VIDEO: Muslims Stab and Stone Christians at Bethlehem Church on Feast of St. George – The post VIDEO: Muslims Stab and Stone Christians at Bethlehem Church on Feast of St. George appeared first on Pamela Geller, Atlas Shrugs.
Muslims Steal Eleven Year Old Christian Girl, And Gang Rape Her For Three Days Straight – The two rapists have threatened that they will burn the homes of other Christians if they were not acquitted.
Sudanese Judge to Pregnant Woman: 'I Sentence You to Hang' for Becoming a Christian – The woman brought her punishment of death upon herself, said Judge Mohammed Khalifa: "We gave you three days to recant but you insist on not returning to Islam."    "I sentence you to be hanged to death." For good measure, Judge Khalifa ordered the woman to be beaten with 100 lashes of the whip before being hung for "adultery."
Islamic Terrorists Bomb School Bus of Jewish schoolgirls –  In any war between the civilized man and the savage, support the civilized man. Support Israel, defeat jihad.  Palestinian is a euphemism for jihad. Period. It's a marketing term for Jewish slaughter.
Muslim Man Stabs His 22 Year Old Sister To Death After Finding Out She Was Watching A Christian CD – While murdering his own sister, the Muslim man's hand was somehow wounded. After killing her he dumped her body in front of a hospital.
 

May 2014 – Week No.4:
Liberal Reporter Beaten to Near Death by his Muslim 'Friend' – "'I thought you were my friend,' I told him. 'No friends,' he replied, shooting me twice in the ankle just to have the satisfaction of crippling me."
Muslims Send Christians To Reeducation Camps To Be Severely Beaten And Forced To Convert To Islam – In the Muslim nation of Malaysia, Muslims who convert to Christianity are sent to reeducation camps where they are severely beaten and coerced to return to Islam
Muslims kill 118 at bus terminal and market in predominantly Christian part of Nigerian city – the latest in a series of attacks that has the country reeling. The detonation of …
Muslims Attack Two Catholic Nuns, So Viciously That They Have To Be Sent To The Emergency Room – One of the nuns, Sister Juliana Lim, was found to be in critical condition and sent to the Seremban Hospital. The other nun, Sister Mary-Rose …
Muslims Murder Twelve Year Old Christian Girl – A Muslim terrorist in Nigeria detonated a number of bombs in the Christian section of the city of Kano, murdering 20 people, including a twelve year old Christian girl.
Muslims Slaughter 166 People, Mutilate Their Bodies, Burn Down Their Homes And Praise Allah – They killed thirty people in the village of Shawa, 18 people in Alagarno and Bulakurbe, and another 118 in the Christian area of Jos.
American Muslim Beats His Wife And Murders Her For Not Cooking Him a Goat – A 'moderate' 75 year-old muslim man is using the defense that it is customary in Pakistan to beat your wife, implying that such beatings should be allowed in the U.S.
Muslims Butcher Thirty One Innocent People, Mutilating Them And Burning Their Flesh – The Muslims butchered thirty-one people and injured over ninety people. One witness heard a dozen large explosions, as opposed to just one
Muslims Seize Twenty Nine Poor Farmers As They Till Their Fields, And Execute Every One Of Them – Islamist group Boko Haram shot dead 29 farm workers as they tilled their fields in remote north-east Nigeria
May 2014 – Week No.5:
Islamic Group Beheads Real Estate Agents Who Do Business with Christians

Nigeria: Muslim group seeking sharia kills 1,000+ in 2 months, incl 173 teachers – Mr. Dare Ilekoya, has said no fewer than 173 teachers have been killed by the violent Islamic sect…
 750 Churches Burnt by Devout Muslim Boko Haram – 
Muslims execute 50+ fans watching World Cup in Kenya and Nigeria – THEY came with death in their hearts and bombs strapped to their bodies, to slaughter 74 innocent soccer fans as they watched the World Cup.
Muslims Order Christians To Close Down Their Churches, And Say That If They Open Them Up, They Will Burn Them Down – 
 ISIS Holds Festive Public Execution in Syria Complete With Music and Small Children in Attendance (GRAPHIC) – The point-blank execution shooting of the two men was capped off by enthusiastic shouts of "Allahu akbar" and the crucifixion-style tying up of the slain men
Muslims Order Christians That They Must Pay $250 Or More, Or Else The Christians Will Be Slaughtered
 June 2014 – Week No.4:
 20,000 homicide bombers parade through Baghdad
The Islamic State in Iraq and Syria Orders Unmarried Women to 'Jihad By Sex'
Sharia in France: Muslims attack man for eating ham sandwich
Nigeria: Muslims kidnap more than 60 women and girls, and 31 schoolboys
VIDEO: Vicious Muslim gang beat American for drinking in public
The ISIS Jihadist say: "This is The War Muhammad Promised Us;
WATCH The ISIS Dumping Victims In What Seems To Be The BOTTOMLESS PIT
Muslims Make Very Calculated Attack, And Butcher Twenty One People
The killing fields of Iraq: ISIS massacred up to 190 prisoners in just four days
50,000 Christians Flee Iraqi City Ahead of ISIL
Sharia in France: Muslims attack man for eating ham sandwich – See more at: http://pamelageller.com/#sthash.J7BsuSSs.dpuf
e Islamic State in Iraq and Syria Orders Unmarried Women to 'Jihad By Sex' – See more at: http://pamelageller.com/2014/06/islamic-state-iraq-syria-orders-unmarried-women-jihad-sex.html/#sthash.x7krrZzS.dpuf
The Islamic State in Iraq and Syria Orders Unmarried Women to 'Jihad By Sex' – See more at: http://pamelageller.com/2014/06/islamic-state-iraq-syria-orders-unmarried-women-jihad-sex.html/#sthash.x7krrZzS.dpuf
 July 2014 – Week No.1:
Muslim Persecution of Christians, February 2014
Pakistani couple killed by family for marrying without its consent
Couple hacked to death by bride's Muslim family
9 people crucified by ISIS in Syria
Muslims Break Into Churches, Butcher And Slaughter Thirty Christians, Burn Many Churches And Put The Homes Of Christians To Flames
Muslims Attack Christians And Bulldoze Church
Muslims Enter The Home Of Christian Family, Take The Mother And Her Daughter, And Then Three Muslims Gang Rape Them In Front Of Her Husband
Watch How This Muslim Woman In A Hijab Bashes A Man To Death With A Hammer, And How A Muslim Teen Stabs Man In The Head
Muslims Make A Official Declaration That They Will Invade The Vatican
Seattle Muslim Targets and Murders Homosexuals
July 2014 – Week No.1:
Muslims Storm Inside Church, And Kidnap Two Christian Priests And A Nun
CAUGHT ON FILM: Muslims Brutally Torture And Beat Innocent Woman
MAJOR NEWS Muslims Destroy The Tomb Of The Prophet Jonah, The Prophet Seth, And Burn Down 11 Churches
Muslims Murder Christian, And Put A Bible On His Corpse In Order To Mock Christ
Muslims Kidnap 53 People, Blindfold Them, And Butcher Each And Every One Of Them
ISIS Crucifies Young Men For Leaving The Peaceful Religion of Islam
Hamas song: "Fire your rockets… blow up Tel Aviv!" "Victory is from Allah"
Muslims Take Hundreds Of Underage Christian Girls, Film Themselves Brutally Gang Raping Them Over And Over Again, And Then Butcher Them. One Christian Girl Curls Into A Ball And Begs For Mercy
July 2014 – Week No.2 – 4:
 Copyright © 2013 Houraney.com. All Rights Reserved.