KUHNER: Radical Islam's conquest of America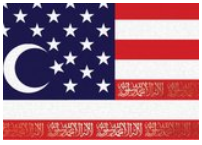 Posted August 5, 2010 By Jeffrey T. Kuhner The Washington Times
America is surrendering in the war against radical Islam. This is the real meaning behind the decision to build a 13-story mosque and Mus- lim cultural center 600 feet from the site of ground zero. A New York City panel gave the green light Tuesday for the project – despite intense resistance from many families of the victims of the Sept. 11, 2001, attacks. Most New Yorkers and Americans do not want this mosque erected: It will be a symbolic monument to the triumph of Islamism in the United States.
Ground zero is more than where the World Trade Center came crashing down. It is not simply where an immense crime took place. Rather, it is the site of an act of war, hallowed ground that contains the blood of 3,000 human beings, mostly Americans, murdered on that fateful day. Like Pearl Harbor, it is a national shrine that should be dedicated to honor the memory of the victims – an eternal reminder of the atrocity perpetrated by Islamic fascism on U.S. soil.
The Sept. 11 attacks were committed by Muslim extremists in the name of holy war against the West. They used the Koran and Islamic principles to justify their actions. Their goal was to bring jihad to America, unleashing a clash of civilizations. Across the world, Islamists seek to impose a world Muslim empire based on Shariah law. Ground zero is where the war came home to America.
…..
The sad irony is that most of the victims of Islamic fascism have been Muslims – fellow co-religionists – slaughtered by medieval barbarians. The ground-zero mosque disgraces them as much as everyone else. Mr. Bloomberg could have done the right thing and opposed the building of the mosque. Yet his actions show that liberalism is defenseless in the face of Islamic supremacism – as it is all across Europe.
The United States of Arabia has arrived
Read Complete Post at