–  My Take  –
I've spent a lot of time condemning the terrible leadership in this country and the 'weak and stupid' Good Guys.  So it's a pleasure to introduce to you a rare combination of character, courage, leadership, vision, historical aptitude and just plain common sense.  Meet Geert Wilders, modern day warrior.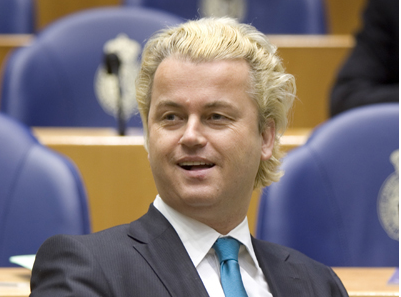 Speech Geert Wilders Ground Zero New York City 11th September 2010
Read Complete Transcript of this Speech at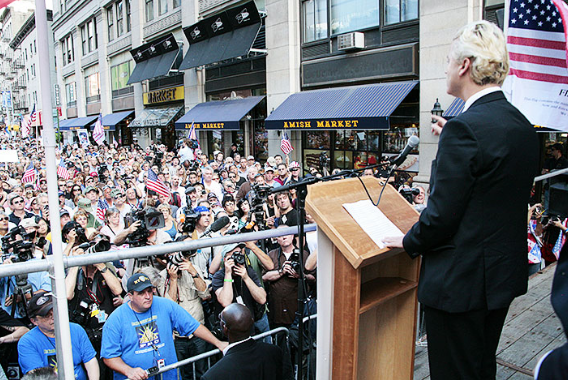 Geert Wilders was  (born September 6, 1963) is a Dutch politician and leader of the Party for Freedom, the third leading political party in the Netherlands. Born in the city of Venlo, raised as a Roman Catholic and having left the Church at his coming of age, Wilders attributes his politics to his support for what he calls 'Judeo-Christian values'. He formed many of his political views on his travels to Israel, as well as the neighboring Arab countries. His early job at the Dutch social insurance agency propelled him into politics, where he worked as a speechwriter for the conservative-liberal People's Party for Freedom and Democracy.  In 1996, he moved to the city of Utrecht, where he was elected to the city council and later to the House of Representatives of the Netherlands.
Mr. Wilders has produced two documentaries. Fitna is a 2008 short film written and commissioned by Wilders that explores Koranic-inspired motivations for terrorism, Islamic universalism, and Islam in the Netherlands. Its title comes from the Arabic word fitna, which describes "disagreement and division among people" or a "test of faith in times of trial".  It is the subject of an international controversy and debate on free speech. Jordan has summoned Wilders to court, with the film deemed to "incite hatred". Al-Qaeda issued a call to murder Wilders after its release.   The second film Islam Rising: Geert Wilders' Warning to the West is a one hour documentary about Geert Wilders, produced by PRB Films, an American company, in cooperation with Christian Action Network
Visit and support Geert Wilders at http://www.geertwilders.nl