–  My Take  –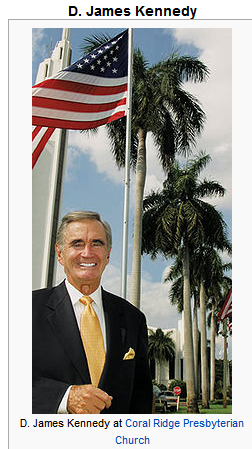 [1]On September 5, 2007 our country lost a real modern day hero.   The White House issued a statement the following day, saying that U.S. President George W. Bush and First Lady Laura Bush were "deeply saddened" by Kennedy's death, calling the Florida-based televangelist and author "a man of great vision, faith, and integrity …
Dr. D. James Kennedy was one of the most influential Christian leaders of the late twentieth century.  Along with his spiritual message in bringing people to God, he also believed that since the Bible speaks to all of life, the light of Scripture should go into every dark corner of American culture—entertainment, news media, and politics. He was a leading voice for righteousness in our society – a legacy of salt and light which Coral Ridge Ministries continues to espouse and promote through its many various media outlets.
In a time where the church leaders are needed more than ever, this inspirational patriot led the way.  My complaint to my preacher has always been the same;  the church spends too much time on 2000 years ago and not enough on today and it's followers life right now here on earth.  It spends too much time preaching about God and goodness and no time preaching about evil.  The result is that their followers, 'The Good Guys' do not recognize evil when it stares right at them.   Dr. Kennedy didn't make these mistakes.  He recognized that 'The Bad Guys' were taking over our country and so he spent the better half of his life preaching and producing sermons, documentaries, books and co founding The Alliance Defense Fund [2] in 1994, a legal group to counter the ACLU.
His sermons effecting the American culture can still be seen every Sunday on The Coral Ridge Hour [3].  This program is an award-winning weekly television broadcast that is seen nationwide and around the world, offering viewers messages from Dr. D. James Kennedy and insightful news features on issues of contemporary concern.

Here's a message spoken by Dr. Kennedy on November 21, 1993 and is so relevant to us today.  He speaks of America as a 'prodigal nation' whose people are on a  pilgrimage to the pigsty'.   So eloquent,so direct and so meaningful.  After hearing this you'll want hear more.  So check it out and check out The Coral Ridge Ministries [4].  This Ministry sets a great example for all The Good guys to emulate.  It is meaningful, effective and relevant to the people and to the nation.
Thank You & God Bless You D. James Kennedy.
'Secular Humanism'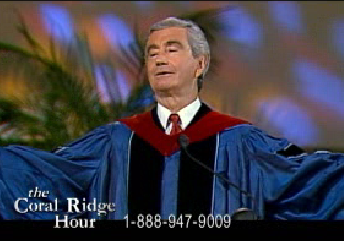 [5]