–  My Take  –
First allow me to congratulate the whores, atheists, abortionists and homosexuals on their tremendous successes since 1963 when they began their march towards Gomorrah and the destruction of the American family by eliminating school prayer.
The statistics below are from a report published in 2002.  Unfortunately these cancerous cultural symtoms have increased since then.   The very sad part of this is that the destruction of  the family by a small minority is ongoing while the majority stands by.  As usual the majority are 'The Good Guys' and as usual they go along with the propaganda and the agendas of the bad guys.    The  majority has been weak and stupid.  They have allowed the minority to take control of their culture and their country.  The minority has brilliantly made truth into a hate speech if it dares to conflict with their decadent agenda.  And the Good Guys cooperate with the politically correct speech and misplaced sympathies.   Better wake up soon Good Guys.
STOP 'turning the other cheek' and START SLAPPING BACK!
Here's the frightening reality of what is happening to our culture.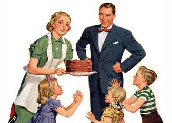 Effects on the Social Fabric
Increased crime and violence
Decreased community ties
A growing 'divorce culture'
Cycle of fatherlessness
Dependence on state welfare
Read Complete Report at