–  My Take  –
Any of you have a teenage daughter?    How about have any of you ever seen a teenage girl?  Of course we all have.   (Bear with me, this a visual thing)
Well now you need to close your eyes and picture your daughter or a teenage girl standing against a wall with her friend.  They are about to be executed in cold blood.  Your daughter is blindfolded but her once sparkling eyes are all you can see.  She and her friend are about to die a horrible death.  They are trembling, shaking so much their burqas are blowing up dust beneath their young feet.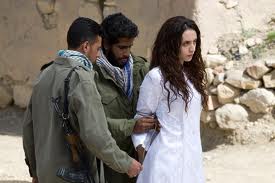 You and your family and the whole town have been forced to attend this slaughter of innocence.  Of course you have witnessed whippings, amputations and executions before.  After all, Islamic law must be enforced, this is the word of Allah and there can be no argument.  But two young teenage girls?  Executed in the Town Square.  In front of their friends and family?  These Muslim really know how to make a point, especially when it comes to murder and death.
BOOM ! x 10.  Ten masked Muslims fire and end the worlds of these young girls and their families.  But be consoled that justice has prevailed, Mohamed's justice –  as administered by a Sharia Court.
Here's the story:
Islamic Supremacists Execute Two Girls, "There is no God but Allah"
Posted on October 28, 2010 by Pam Geller
MOGADISHU, Somalia – An Islamic group that controls much of southern Somalia executed two girls by firing squad, and hundreds of residents of a town were forced to view the spectacle.
Sheik Mohamed Ibrahim on Wednesday sentenced the girls to death in the town of Belet Weyne for spying for government soldiers fighting the Islamist group al-Shabab. The local al-Shabab administration appoints judges and the only needed qualifications are that the person must be a man who knows the Quran.
Al-Shabab is linked to al-Qaida and has carried out several whippings, amputations and executions to enforce its own strict interpretation of Islam. ….
Read Complete Post at