–  My Take  –
Caliph Abu Bakr sent to a Persian commander before a battle in 636 bears. It read: You should convert to Islam, and then you will be safe, for if you don't, you should know that I have come to you with an army of men that love death as you love life."
And so for almost 1400 years nothing has changed.  The real followers of Islam are " an army of men that love death as you love life."
Still feel safe with that Mosque down the road?
Here's the followup on the Baghdad Church massacre: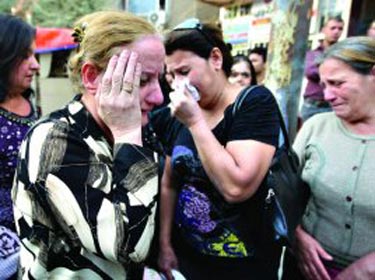 Islamist "Dead Zones"
Posted by Stephen Brown on Nov 4th, 2010
Ear-splitting explosions; bloody, whimpering and lifeless bodies strewn across the floor; demented terrorists killing with an insane cruelty; and a building held sacred now ruined and profaned.
It was a scene fit for Dante's Inferno or a medieval painting of hell, but only the victims weren't sinners. The people who came to Baghdad's Our Lady of the Holy Salvation Church last Sunday evening had wanted to get closer to God, but instead were struck by the "hand of the devil." And once more it was the followers of the Islamist death cult who formed the devil's fist, their satanic blow costing this time more than 50 of the assembled worshipers their lives.
"They came to kill, kill, kill," massacre survivor Bassam Sami told the New York Times after his narrow escape from death.
According to survivors, the Islamists stormed the church, firing their weapons, killing many of the 80 to 100 congregation members gathered there for the evening service.
…  one of the priests pleaded for his parishioners' lives as he was pushed to the ground, grasping a crucifix, and murdered.



Original Post at Houraney.com
Church Seized: Muslims Kidnap 50 Catholics, at Least 37 Dead
Read the Complete Story at