–  My Take  –
This is a Great Story about a Great Man and a Great Generation.  It is so refreshing to read about a real American instead of these ungrateful, unpatriotic jackasses we watch daily in the news.
This post is about Cpl. Frank Buckles who at 109 is the last surviving member of the brave Americans who fought in WWI.  Think about it.  Can you imagine?  This man fought in WWI almost 100 years ago!   That means this man was fighting for the freedom for most of us who were not even born yet!
What can be said about a story like this but 'Wow'…  The only thing left to say is

God Bless You and Thank You Cpl. Frank Buckles.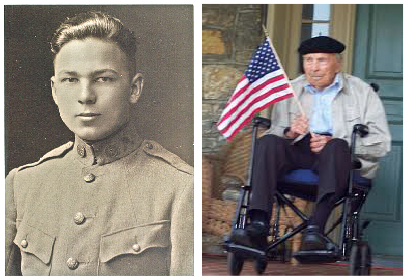 'Over There': The Final Legacy
Posted by Rep. Ted Poe on December 16,2010
"Over there, over there, send the word, send the word, over there. That the Yanks are coming, the Yanks are coming, and we won't be back, till it's over over there." These were the words proudly sung by the American Doughboys as they headed "over there" to fight for freedom in the Great World War. Nearly a century later, the final legacy of the American Doughboy is in our hands. How will we write the next pages of the final chapter?
At 109 years old, it is reasonable to assume there isn't much left in life to accomplish. For most people that's probably true. But for Frank Buckles, in his last chapter of life, his story is not quite done.
Read Complete Post at