–  My Take  –
Ever wonder how the greatest country in history could ever be bankrupting ITSELF?
The whole world has looked to America for over 100 years for just about everything from security to bread on the table.
Think of it this way; You are the biggest and most prolific business in the world.  You have managed to achieve production expertise and efficiency on the most popular product in the marketplace.   The whole world beats a path to your door to buy your product.  You are the biggest and the best and there is not even a close second; no competition.
After many years of fighting and struggling to build this great enterprise, for whatever unexplainable reasons, you start to hire management based on their education and not on their experience or expertise in your business.
Take a real wild guess what will happen to your business?  Not rocket science, is it?
Now let's look at The United States of America.
America's success is measured in how well it provides for the people. pretty much the same as a corporation's success is measured on how well it provides for the stockholders.   As long as America has been successful, the people have enjoyed 'life, liberty and the pursuit of happiness'.   Just as corporation or any business, when the expenses start to suffocate the revenues, the enterprise is destined for failure or bankruptcy unless some astute and timely actions are taken.
On January 17, 1925, President Coolidge made this famous remark in an address to the Society of American Newspaper Editors on  in Washington, D.C.
"After all, the chief business of the American people is business. They are profoundly concerned with producing, buying, selling, investing and prospering in the world…"
From this is derived the saying that 'The business of America is business'.   Indeed it is.
The business of America is business
So I ask everyone who votes in America:  PLEASE TELL ME WHY YOU OVER AND OVER AND OVER AGAIN VOTE FOR PEOPLE TO RUN YOUR COUNTRY WHO HAVE NO EXPERIENCE OR EXPERTISE IN RUNNING A BUSINESS???   WHY DO YOU VOTE FOR LAWYERS???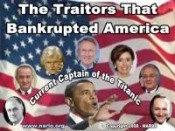 What a Coincidence – ALL lawyers…

They control every branch of government both State and Federal.  Roughly 85% of our governments is now controlled by a privileged group of people that comprise a mere .03% of the entire population of our country.  Call them Republican Democrat, Independents, Politicians, Legislators, Judges, Congressmen, Senators, Presidents; they are almost all lawyers.   And as everyone knows, lawyers are the least experiences group of professionals when it comes to business.

So there you have it.  America is going bankrupt.  What do you expect…
Very Prophetic and Very Possible:  Please watch this video and Spread the Word.

Michael