–  My Take  –
Wafa Sultan is one of the people who I 'affectionately' refer to as one of "The 5 Pillars of Islam".   She is one of the top 5 Muslims who are exposing to the world to the realities of Islam.

Back in 2006 Wafa Sultan shocked the world and especially the Muslim world when she went on Al Jazeera TV and debated a Muslim Cleric (video below).   A Muslim condemning Islam and in the center of the Muslim world and a woman!!!   This just had not happened in the 1400 year history of Islam!
Since then Ms. Sultan has devoted her life to teaching a naive world about how Islam is not a 'religion of peace' but is a cancer on civilization that has to be eradicated.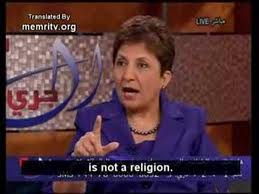 People like Wafa Sultan truly are amazing.   Everyday when she walks out the door in the morning could be 'the day' when Islam carries out the death threats against her.   How would you like to live your life like that??     The reality is that Islam cannot tolerate people like Ms. Sultan.  She has first hand experience with Islam and she is telling the world about it.  Islam cannot afford to have the world finally know the truth.   "The truth shall set us free" , which means the end of Islam.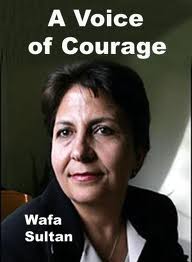 Wafa Sultan was born June 14, 1958 in Syria is a medical doctor who trained as a psychiatrist in Syria, and an American author and critic of Muslim society and Islam having self-identified as a Muslim but not religious.
In 2006 Wafa Sultan was named in Time Magazine in a list of 100 influential people in the world "whose power, talent or moral example is transforming the world."     Time stated that "Sultan's influence flows from her willingness to express openly critical views on Islamic extremism that are widely shared but rarely aired by other Muslims."   She has been called "Islam's Ann Coulter"
Qaradawi: Wafa Sultan "had the audacity to publicly curse Allah, His Prophet, the Koran, the history of Islam, and the Islamic nation"
Posted by Robert Spencer on March 21, 2008
"She said unbearable, ghastly things that made my hair stand on end" — so now I have to wear this hat
Poor, fragile Qaradawi: "She said unbearable, ghastly things that made my hair stand on end." He is referring, of course, to Wafa Sultan's most recent appearance on Al-Jazeera, and he frames his frenzied denunciation here in terms that his jihadist minions will understand as meaning that she must be killed.
The American government should be rushing to protect her. Is that happening?
"Sheikh Yousef Al-Qaradhawi Accuses Arab-American Psychiatrist Wafa Sultan of 'Cursing Allah' on Al-Jazeera TV," from MEMRI (thanks to all who sent this in): …
Read Complete Post at

Get Wafa Sultans Book: