–  My Take  –
Pam Geller.  Remember this name.  She is one of the few people who will be remembered as a 21st Century heroin when history records The War for Civilization [1].
She does it again today with this simple post and picture.  As all great women do, Ms. Geller just keeps getting better everyday.
Here's Pam Geller's Take:
One Picture is Worth a Thousand Blogs
Posted by Pam Geller on April 2, 2011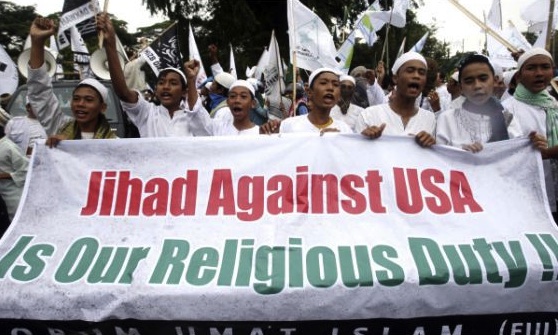 [2]
CAPTION: Indonesian Muslim protesters hold a banner during a protest against the military attack on Libya by the United States in Jakarta, Indonesia, Friday, April 1, 2011. (OC Register [3])
Thousands of blogs, books, columns, and speeches, and here these devout and pious fellas have conveyed the message better than I ever could.
I am anxious to hear all of the Islamic supremacists groups (CAIR, ISNA, ICNA, MAS, MSA, etc.) fiercely rebuke and denounce these Muslims as viciously as they denounce counter jihad fighters.
See Original Post at

[4]