– My Take –
President Barack Obama has proclaimed June 2011 "Lesbian, Gay, Bisexual and Transgender Pride Month." Of course our 'Disgrace-in Chief' is aware that there are eleven more months on the calendar that he needs to endorse and promote the Party platform with.
Knowing how very busy he is and that there can be only so much time for golf when you have to dedicate yourself to destroying a country, let's help him out.
In 'honor' of 'Gay' and Lesbian Pride Month, and to assist Obama in promoting his agenda to destroy the American way, I thought maybe we would get a head start on next years calendar.
So Mr. 'President' here's the first draft for your party's 2012 calendar. it may be updated before the election but I doubt it. It pretty well spells out what you and your Party Platform want the voters to endorse.
Any and all copyright laws are waived and permission is hereby granted by the author for you and anyone in your campaign to copy and distribute as many copies as you like to all of the Americans, Muslims, Marxists, Communists, Fascists, and freeloading aliens and minorities that support you.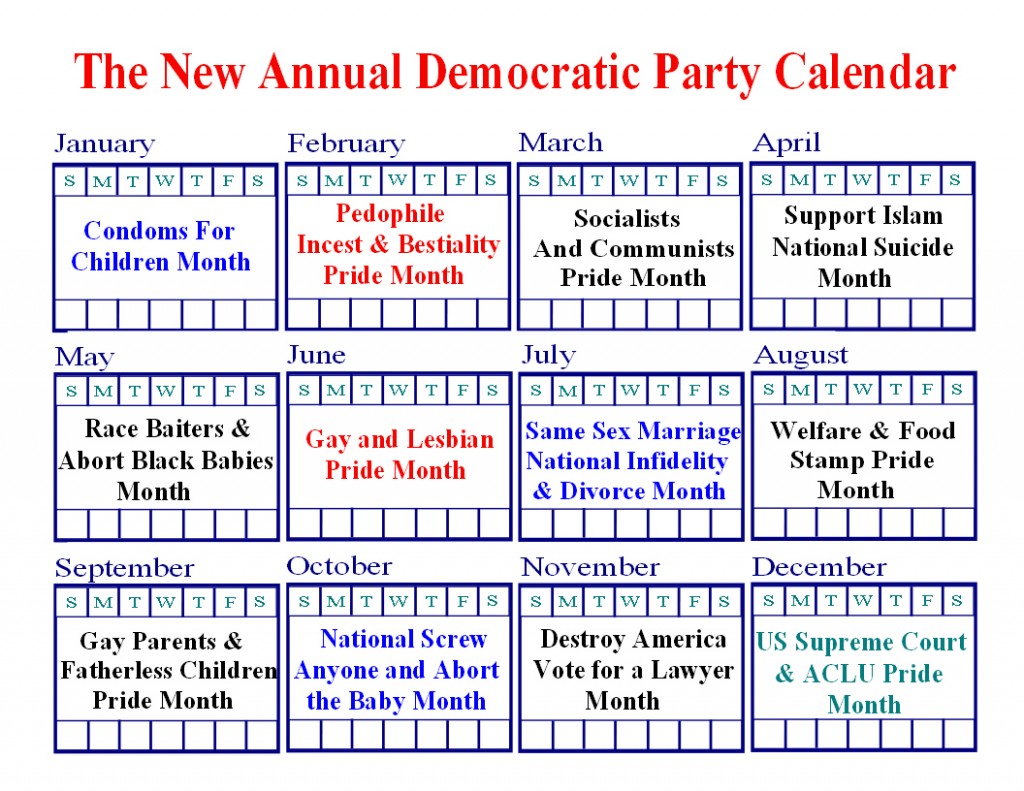 [1]
Click to Enlarge & Print
– To All Others who may disagree with America's 1st Muslim President –
It is very important that this calendar get exposed to the electorate ASAP so they can start to think about the 2012 Presidential election. Since 63 million people obviously cast an 'American Idol' vote in the 2008 election, perhaps we can show these people the Platform that their vote endorsed in hopes that just maybe next time they will take a few minutes to qualify the candidate (God forbid…) and realize what their vote is endorsing.