–  The Bottom Line  –
Having had to live through the feminization of the American Man for the last 4o years, Thank You God for Mr. Alan West.
In a response to a Muslim group, who should not even be allowed to exist in our country, Congressman West responds to their attempt to silence free speech and the truth about Islam.
Read and learn all of you wimps who call yourselves 'men' before its too late.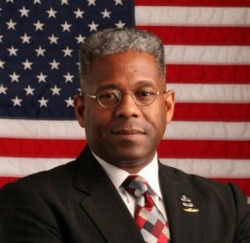 [1]
Allen West's Response to Request That He Cut Ties With Anti-Islamic Extremists: "NUTS!"
Posted by Matthew Hendley Mon., Aug. 15 2011 at  Broward/ Palm Beach Times [2]
The Florida chapter of the Council on American-Islamic Relations sent a letter to Rep. Allen West at the beginning of the month with a request — quit palling around with Islamophobes.
The letter, from CAIR South Florida Executive Director Nezar Hamze, specifically asked West to cut his ties with Pamela Geller, Robert Spencer, Joe Kaufman, and Joyce Kaufman, among others.
In classic Allen West elegance, he responded to the letter — under his official congressional letterhead — with one word: "NUTS!"
Here's a copy of his letter: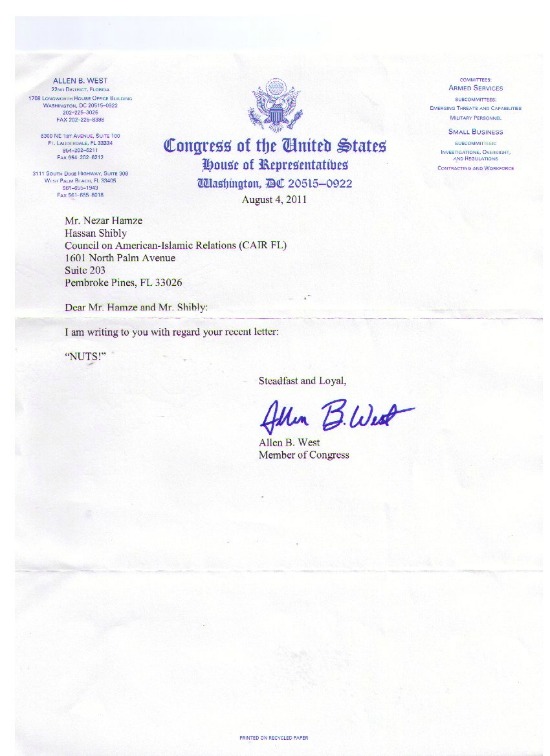 [3]
[easy-contact]