– The Bottom Line –
Think about this; You're 37 tears old and have just leaped from a car washer to the Number One Star on TV winning one million dollars and headlining your own show at Caesars Palace in Las Vegas! So of course what is one of the first things you think about and say?
"I want to place hope back into [society], because it's like people have lost hope in their dreams and desires," he said. "I want to reverse that." – Landau Eugene Murphy, Jr.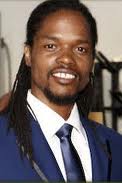 This guy represents the true meaning of the American success story. The true meaning of Talent. And most importantly, he represents the kind of person who built America with years of work, sweat and an unwavering dedication to building a better life for his family. Now add to that a touch of the desire and dream to help 'society' and you have Landau Eugene Murphy, Jr, 'A Class Act".
Personally I am probably a singers worst fan. There's just so damn many singers and most of them suck. But with a little luck, this 'car washer' will be the biggest crooner in America since Sinatra left the stage. And unlike most famous singers, he'll deserve it
America has always had an abundance of talent. But 'class acts' have lately been few and far between in American entertainment.
First 11 year old Jackie Evanko and now Landau Eugene Murphy, Jr. – the future is looking pretty good. Enjoy.