–  The Bottom Line  –
BRAVO Mr. Bosch Fawstin.  It was obvious that Mr. Fawstin was a very talented artist, but this post of his illustrates again that he is also one keenly aware of the bottom line / cause & effect of a problem while most 'experts' dribble on like kindergarten kids who just woke up this morning.
I always liked George W. Bush.  He is a good guy.  At least he finally brought the fight to the Muslim world, albeit the wrong countries.  But in wartime, we never want a 'good guy' to be Commander-in-Chief.  We need a Patton, (The War Without a General) or a Pershing (Where Have All The Generals Gone?) . 
George W. Bush will forever be the poster child for 'Weak and Stupid Christians' in this 3rd World War; The War for Civilization.
Here's the Post:
The Costliest Bailout in U.S. History
Posted by Bosch Fawstin on October 11, 2011
In the age of bailouts, George Bush's bailout of Islam after 9/11/01 will be the costliest bailout in U.S. history. Shortly after the attacks, Bush was in a mosque, flanked by members of the stealth jihadist group CAIR (who somehow held straight faces without cackling) and uttered "Islam is peace".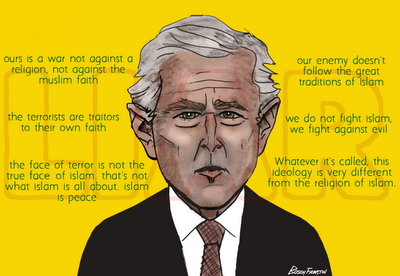 In the moment of truth, he lied. To himself, to us, to the world, about the true nature of what we were facing, and our response to 9/11 was predicated on that lie, which crippled our war effort from the start. He squandered the green light he got from the majority of Americans to end the threat once and for all, and here we are, ten years later, with a successor who considers it part of his "responsibility as President of the United States to fight against negative stereotypes of Islam wherever they appear."
This is why I refer to him as:   George W. "Islam Means Peace" Bush AKA George W.I.M.P. Bush.
See original Post and Follow Bosh Fawstin at