– The Bottom Line –
So what else is new? They Kill Their Own Children that 'disrespect' Islam. It's very unfortunate that anyone would be shocked or even surprised by this. If anyone is (and most are!) it only proves how naive and ignorant people are when it comes to Islam.
This story comes out of Egypt as this country transitions from a secular government to an Islamic Sharia Theocracy. Churches are being burned down (HERE), Christians are being murdered by Muslim mobs (HERE) and the Israeli peace agreement is in essence toilet paper for the new government. (HERE)
Congratulations to all the suicidal morons of the world who cheered for the 'Islamic Spring.' Now live with it and watch as Christians are butchered and 'The Diarrhea of Civilization' takes control of yet another country.
And by the way, next time anyone suggests that Islam is a religion, show them this picture and tell them about this young boy who made the ultimate 'sin' of wearing a cross in a Muslim Country…
Here's the story: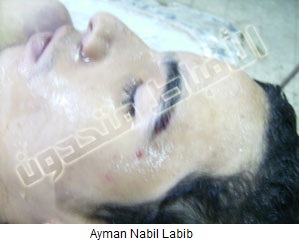 Christian Student Murdered By Muslim Classmates for Wearing a Cross: "The teacher nearly choked my son and Muslim students joined in the beating"
Posted by Pam Geller on October 30, 2011
In mid-October Egyptian media published news of an altercation between Muslim and Christian students over a classroom seat at a school in Mallawi, Minya province. The altercation lead to the murder of a Christian student. The media portrayed the incident as non-sectarian. However, Copts Without Borders, a Coptic news website, refuted this version and was first to report that the Christian student was murdered because he was wearing a crucifix.
"We wanted to believe the official version," said activist Mark Ebeid, "because the Coptic version was a catastrophe, as it would take persecution of Christians also to schools." He blamed the church in Mallawi for keeping quiet about the incident.
Today the parents of the 17-year-old Christian student Ayman Nabil Labib, broke their silence, confirming that their son was murdered on October 16, in "cold blood because he refused to take off his crucifix as ordered by his Muslim teacher." Nabil Labib, the father, said in a taped video interview with Copts United NGO, that his son had a cross tattooed on his wrist as per Coptic tradition, as well as another cross which he wore under his clothes. …
Read complete post at