– The Bottom Line –
'This is Islam' – 5 sons dead, 2 to go. A mother learns that son number 5 has been killed and she 'expresses joy and praises Allah for it.' What kind of evil has embedded itself in Islam? The worst of the worst in world history at least mourned and grieved when their sons were killed. But not in Islam. Indeed "The Diarrhea of Civilization."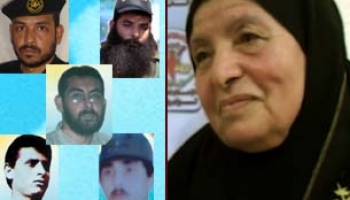 [1]
Jihad Mom: Palestinian Woman Filled With 'Pride and Joy' That Fifth Terrorist Son Is Killed
Posted on November 2, 2011 at The Blaze
The Palestinian News Agency Ma'an interviewed a woman in Gaza whose son was killed over the weekend in an Israeli airstrike aimed at terrorists launching rockets at Israeli towns. Her son Ahmad al-Sheikh Khalil was an Islamic Jihad military leader. Previously, four of her sons, also Islamic Jihad activists, were killed in Israeli anti-terrorism operations.
According to Saraya [2], the website associated with Islamic Jihad's al-Quds Brigades military wing, the mother – who has two surviving sons – felt "pride and joy" at the news about her son Ahmad, though she was also sad to leave him.
See Original Post at

[3]