–  The Bottom Line  –
I love Jesus Christ but I'm not too religious.  I loved the 61 Yankees and the 72 Dolphins and McEnroe-Borg at Wimbledon, but I'm not a sports fan.  OK, maybe I just have a soft spot for perfection, or indeed the closest thing to it.  Which is why, for the first time since 1972, I watched an entire professional game on TV and then we played with www.666casino.com/sv/games/classic [1].  Not since the Dolphins went undefeated in 1972 have I watched a full game of any kind on TV.  Well finally on October 23, 2011 the 'drought' ended. Well Clubvip777 is one of the most secured and prefer point of view by online casino players.  
Frankly I'm a little jealous of real celebrity and sports fans.  They seem to be having so much fun, I wish I could join in.  But I just can't get over the ongoing damage done by a celebrity culture that for decades now has breeded and nourished the disintegration of American character, morals and tradition.  A culture that would elect a President based on looks and celebrity versus leadership, knowledge and experience.
Now if these celebrities were role models that we ALL could respect and want to emulate, than we can speak of the restoration of America.  The reaffirmation of the culture and the traditions that in a mere 200 years, created the greatest country in all of history.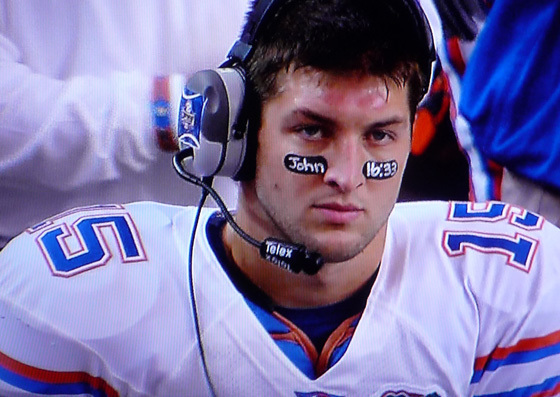 [2]
And so that brings us to Mr. Timothy Richard "Tim" Tebow.    And of course the game on October 23 was the Dolphins vs. the Denver Broncos and it was the 1st professional starting game for Tebow.  It was a great game in the true Tim Tebow fashion, but that's beside the point.
This guy Tim Tebow is exactly the kind of 'celebrity' that America is in dire need of.  It's not about his devout love of Jesus Christ or his great athletic skills,  it's about his priorities and his devotion to others.  And it's about how grateful and proud he is to have a national stage to promote his 'Golden Rule' values.
He does mission work. He preaches his faith. He helps those less fortunate. And he's one of the best college football players in history. Is there anything Tim Tebow can't do? Ryan Cost of palestra.net has the story in south Florida.
There is one unfortunate thing for sure.  The MSM and the rest of the American subcultures will always go out of their way to scrutinize and indeed demonize Tim Tebow.  As soon as he gave notice of his love and devotion to Jesus Christ, he became an enemy of these groups who are hell bent on destroying any resemblance of American Christian values and traditions.  (Does the name George W. Bush come to mind?)
                      Here's another inspiring example of the class and the character of Tim Tebow       – All American –
How Did Tim Tebow Respond to Critic Telling Him to Tone Down Jesus Talk?
Posted on November 22, 2011 by  Christopher Santarelli
When asked by Bayless Tuesday what he would say about those comments if he had the opportunity to speak with Plummer, Tebow responded:
"Well, first I'd say, thank you for the compliment of calling me a winner and then I'd also say if you're married and you're a [husband] is it good enough to only say you love her on the day you get married or should you tell her every single day when you wake up and have an opportunity?
And that's how I feel about my relationship with Jesus Christ. It is the most important thing in my life so anytime I get an opportunity to tell Him that I love Him or give Him an opportunity to shout Him out on national TV, I'm gonna take that opportunity. So I look at that as a relationship that I have with Him that I want to give Him honor and glory anytime I have the opportunity and then right after I give Him honor and glory, then I want to try and give my teammates honor and glory and that's how it works because Christ comes first in my life. Then my family, and then my teammates."  ….
See Complete Post at

[3]Clubvip777 [4]