– The Bottom Line –
Barack Obama is above the law and he knows it and he has grown accustomed to it. From the 2008 campaign till now, Obama has ignored and trampled on the laws of the land.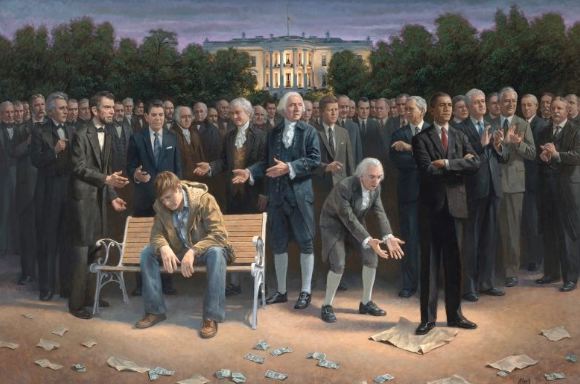 The Forgotten man by Jon McNaughton – click picture to visit site and purchase paintings
The only surprise to this narcissist is how easy it has been and how very gullible and weak most of America has been.
The latest episodes are his total disregard for freedom of religion and his direct defiance of a court order which would have landed anyone else in jail or in contempt of court.
The story about Obama's assault on religious freedom is well documented. It has run 24/7 in all media. But the other story is about a little know episode down in Georgia in which Obama was ordered to appear in court, the lost his appeal and then just flatly ignored the order.
Why wasn't Obama in contempt of court?
Posted by Diana West on February 9, 2012
… Few transgress. Which explains the news blackout on an extraordinary chain of recent events that took place in and around a Georgia courtroom and pertained to challenges to President Obama's eligibility to be a presidential candidate in Georgia in 2012. In the end, the president defeated the challenge. He will be on the Georgia primary ballot come March. But therein lies an amazing tale. …
Read Complete Post at

ALSO
End of the Constitution
Posted by Jeffrey T. Kuhner on February 10, 2012
… Despite his incompetence and economic failure, the president is making good on his central promise: the destruction of our constitutional republic. He is trying – piece by painful piece – to reverse the legacy of the Founding Fathers. Conservatives have underestimated him at their peril. For Mr. Obama is not simply an inept, liberal president in the mold of Jimmy Carter. He is an ideological revolutionary who seeks to sweep away traditional America.
Read Complete Post at