– The Bottom Line –
Another report by the BDM – Brain Dead Media:
A CNN contributor from Syria says 'it's a lie that the Syrian Army is targeting the terrorists' and that 'it is shelling all the innocent civilians' Really?
How about showing us a picture of a 'terrorist' and the uniform that should be targeted…
Were these media people all born yesterday or are they really that f__king stupid that they have no concept of reality??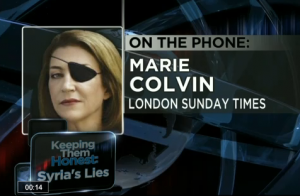 [1]Unfortunately, this poor lady's ignorance led her to believe that she would be safe in a city filled with 'rebels.' In the "Arab Spring" the word 'rebels' is code speak for jihadists. As is there Modus Operandi, these soulless cowards hide among civilians in mosques, churches, schools and homes for protection. From these civilian 'bases' the terrorists launch their rockets and plan their attacks.
And so when Israel, Syria, Egypt or whoever fights back, they can show dead children and innocent victims. This has been going on for decades in Palestine and for millenniums around the world whenever Islam wages jihad.
For the BDM's future reference; here's a picture of "the terrorists" uniform as
they 'engage the enemy':
Here's the sad story:
CNN Contributor Killed In Syria Shelling — Hear Her Final Report
Posted on February 22, 2012
by Mike Opelka
Sad news from Syria this morning: two Western journalists have been killed as the result of a bombing from government troops in the city of Homs.
CNN contributor and Sunday Times of London reporter Maria Colvin and French journalist Remy Ochlik were among the 45+ civilian victims of the violence in Syria. Reuters reports that shells struck the home where the two reporters were staying. Colvin's last column for the Sunday Times, titled "As Casualties Rise; Where Is Nato?", appeared over the weekend.
Colvin, from Oyster Bay, New York, had been a foreign correspondent for Britain's Sunday Times for two decades, reporting from the world's most dangerous places. She lost the sight in one eye in Sri Lanka in 2001 but did not let that deter her.
The shelling in Homs has become so dangerous that CNN pulled its own crews out of the region earlier in the day and the network was relying on telephone reports from contributors. …
Read Complete Post at

[3]