– The Bottom Line –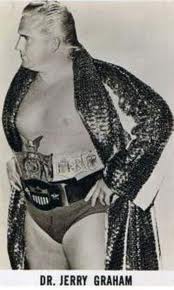 Circa 1962 – I'm turning the channels on the TV to see what's on. Even without a remote, it was pretty easy then being there was all of 3 channels available! Suddenly I see this big fat guy with slicked back blonde hair, a flamboyant cape sparkling with shiny emeralds and sapphires, and he is strutting down a path towards what looked like a boxing ring surrounded by about 6 beautiful women.
He steps up to the ring and gets in and starts to parade around like he is the second coming! He grabs the announcers microphone and starts to brag about how he went to Japan and gained 100 pounds! I have no idea what's going on here. He then takes off his robe to expose his fat stomach and tree trunk legs and you have to figure this guy needs to take a seat before this out of shape behemoth gets a heart attack or something.
Suddenly the bell rings and it was then I was first introduced to the world of professional wrestling. As soon as that bell rang, this 'fat out of shape' guy ran to the center of the ring, jumped about 5 feet in the air, wrapped his legs around the head of his opponent and flipped the guy 180 degrees in the air and landed him on the ring floor face down! The speed and athleticism of this 325 pound man was shocking.
What happened in the next few minutes impressed me so much that till this day, I'm still hooked. Thank You Dr. Jerry Graham.
– Fast forward 50 years – Along with my son and 3 daughters, I still tune in and watch what is best described as 'Adult Cartoons.' This is to take nothing away from the raw talent and athleticism of these 'Superstars' and the shows they deliver every week of the year including Wrestlemania which we watched this week.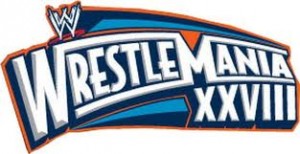 There is no season break. There are NO RETAKES! This is live theater at its most demanding. Not only do you have to remember your lines like every Broadway star, but unlike them your lines change for every 'play.' Few if any of Hollywood's biggest stars could compete with the acting and improvisational talents of these 'actor athletes.' And unlike the 'stars' of stage and screen, there is no stunt man to take the lumps and pull off a athletic maneuver that most 'real' athletes would not even contemplate. Considering the size and the danger of the moves they pull off in and out of the ring, it is simply amazing how few injuries there are. They do pay a price however for their daredevil athletics; most will admit that they live in pain just about 24/7.
Speaking in particular about the WWE, there is no other form of organized entertainment that is so respective and appreciative of it's fans. From the CEO on down, everyone is dedicated and focused on one thing and one thing only: entertaining the fans. Every storyline and every match is aimed at this objective. Be it Vince McMahon the CEO or be it the newest rookie on the roster, all egos are checked at the door in pursuit of the company mission; entertain the fans. And although some question the antics and the morality at times:
All WWE television programming features only TV-PG content as rated not by us, but by the network TV distributors and their standards and practices departments. – Robert Zimmerman Senior Vice President, Corporate Communications, WWE
Also, even though the 'bad guys' run wild, the 'good guys' always win in the end…
All active US Military personnel are admitted FREE to all WWE live events! And finally, since 2002, WWE has produced its annual "Tribute to the Troops" holiday special, with WWE Superstars and Divas performing before troops in Iraq, Afghanistan and the United States. It has been given the Secretary of Defense Exceptional Public Service Award and the USO Legacy of Hope Award. (Can you imagine any other sport team or entertainment company loading ALL their talent on one C-40 Cargo Plane and flying them into a war zone, for free???)
So God Bless these great talents and patriotic professionals. And to Vince McMahon, the PT Barnum of the 20th century and all the players, on behalf of all who love a good laugh and great entertainment – Thank You
WWE broadcasts to approximately 12 million fans per week in the U.S.

WWE programming can be seen in more than half a billion television households worldwide.

Monday Night Raw on USA Network is among the most-watched regularly scheduled programs on primetime cable television and helps make USA a top-rated network. Raw is the longest running, weekly episodic television program in the U.S. with more than 900 original episodes; more than Lassie and Gunsmoke. – SmackDown has become the second longest running weekly episodic program in primetime TV history, behind only WWE's "Monday Night Raw." – Nielsen Media Research
See More WWE Facts at

Did You Know?