Don't know this guy, do you? Well he's not Bell or Xerox or Polk or anyone famous. Rather he should be idolized or demonized could be debated. Some say he made a nation fat and lazy and some will say he's a genius who is with us everyday making it so easy to enjoy all of our TVs, stereos and the like.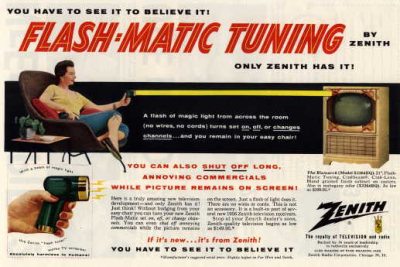 My bet is that most will agree with me that this man was another of the great American innovators who has made our lives easier and more enjoyable every day of the week for the last 57 years.
His name is Eugene Polley and he is the man best known for inventing the first wireless television remote control. He has passed away at 96. They may not know your name Eugene, but you can rest assured that your contribution will be part of their lives until the time comes where they can thank you personally…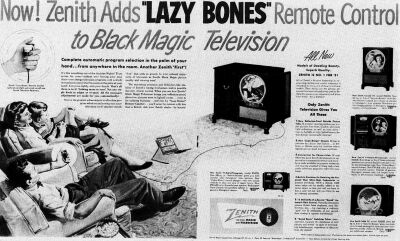 TV Remote Control Inventor Eugene Polley, 1915-2012
CHICAGO, May 21, 2012 /PRNewswire via COMTEX/ — Best known as the inventor of the first wireless remote control for television, Eugene J. Polley started his career with Zenith Radio Corporation (now Zenith Electronics LLC, a subsidiary of LG Electronics) in 1935. His 47-year engineering career spanned the pioneering days of radio, black-and-white television and color TV.
Mr. Polley died of natural causes on May 20 in Advocate Good Samaritan Hospital, Downers Grove, Ill. He was 96.
His inventions, primarily in the field of television, earned 18 U.S. patents. Mr. Polley's best known invention, the "Flash-Matic" remote control, was the world's first wireless TV remote, introduced in 1955. It used a flashlight-like device to activate photo cells on the television set to change channels.
Mr. Polley worked his way up from the stockroom to the parts department, where he produced Zenith's first catalog, and then on to his long career in the engineering department.
During World War II, as part of Zenith's commitment to the war effort, Mr. Polley worked on radar advances for the U.S. Department of Defense. Mr. Polley also worked on the push-button radio for automobiles and on the development of the video disk, predecessor of today's DVD.
Over the years, Mr. Polley held key technology positions at Zenith, including as Product Engineer, Mechanical Engineer, Head of Video Recording Group, Advanced Mechanical Design Group and Assistant Division Chief for the Mechanical Engineering Group.
Mr. Polley was the 2009 recipient of the Masaru Ibuka Consumer Electronics Award from the Institute of Electronic and Electrical Engineers. Mr. Polley and fellow Zenith engineer Robert Adler were honored in 1997 with an Emmy Award from the National Academy of Television Arts and Sciences for "Pioneering Development of Wireless Remote Controls for Consumer Television." Mr. Polley's innovation has been featured in numerous articles and television programs.
Eugene J. Polley was born in Chicago on Nov. 29, 1915. He attended the City Colleges of Chicago and Armour Institute. He was a longtime resident of Lombard, Ill., where he was active in village government, serving as a member of the village's Zoning Board of Appeals for 34 years.
He is survived by his son, Eugene J. Polley Jr., and grandson, Aaron, of San Diego, Calif. He was preceded in death by his wife, Blanche, and daughter, Joan Polley.
Visitation will be held May 22, 5-8 p.m., Brust Funeral Home, Lombard, Ill. A funeral mass will be held May 23 at 10 a.m., Sacred Heart Church, Lombard, followed by internment at Assumption Cemetery in Wheaton.
FATHER OF THE TV REMOTE CONTROL
The inventor of the first wireless remote control for television, Zenith's Gene Polley, was called everything from the founding father of the couch potato to the czar of zapping to the beach boy of channel surfing.
Few would dispute the enormous impact of this invention, devised in an era of three or four VHF broadcast TV stations in most markets. Today, remote control is not a luxury but a necessity in navigating 500-plus digital cable or digital satellite channels, or controlling an HDTV, Blu-Ray Disc player, digital video recorder or home theater audio system – all at the touch of a button.
Zenith's Gene Polley ushered in the era of channel surfing in the middle of the 20th Century during the Golden Age of Television. Mr. Polley invented the "Flash-Matic," which represented the world's first wireless TV remote. Introduced in 1955, Flash-Matic operated by means of four photo cells, one in each corner of the TV screen. The viewer used a highly directional flashlight to activate the four control functions, which turned the picture and sound on and off and changed channels by turning the tuner dial clockwise and counter-clockwise.
Commander Eugene F. McDonald Jr., Zenith's late founder-president, believed TV viewers would not tolerate commercials. While developing and promoting the concept of commercial-free subscription television, McDonald yearned for a way for viewers to take back control from the advertisers. Mr. Polley's Flash-Matic accomplishes that goal. McDonald ordered it into production and honored Mr. Polley with the President's Award.
Building on Mr. Polley's innovation, fellow Zenith engineer, the late Dr. Robert Adler, later developed the next-generation wireless TV remote based on ultrasonic technology, Space Command. By the early 1980s, the industry moved from ultrasonic to infrared, or IR, remote technology. The IR remote works by using a low-frequency light beam, so low that the human eye cannot see it, but which can be detected by a receiver in the TV. Zenith's development of cable-compatible tuning and teletext technologies in the 1980s greatly enhanced the capabilities for infrared TV remotes.
Today, wireless remote pioneered by Mr. Polley, is a standard feature on virtually all consumer electronics products. The most sophisticated digital HDTV sets have remotes with as many as 50 buttons. Of course, in 2012, virtually all television sets, set-top boxes, video players/recorders and other home entertainment components sold in the United States are equipped with remote control.