Having a baby was a 6 day hospital stay; August 26 – September 1, 1950. The bill shows the cost: $102.60. That's it? 102.60 for ME? What a Deal!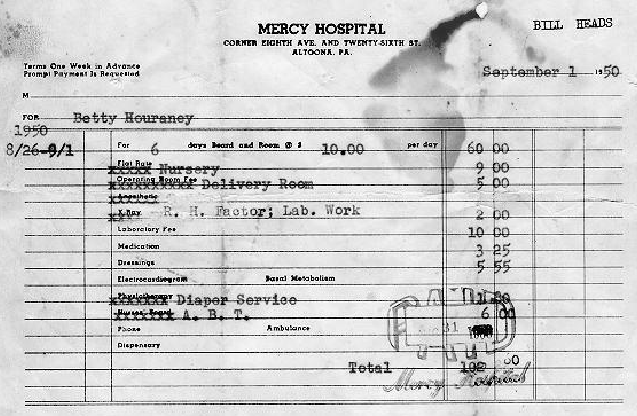 [1]It is the most important day of anyone's life. And as of tomorrow, August 26, 2012, I will celebrate that day again, 62 years later.
OK Not too many people wish themselves a Happy Birthday on their website, but don't forget; I am a 'Bottom Line Guy.' And the bottom line here is that I'm still here Thank God. Too many of my friends didn't make it this far, so the point is (and this could be the first and last time you will ever hear this);
I love to get old – bring it on …
So what if the day after my birthday I have an appointment with Social Security. So what if 2 days after my birthday I have an appointment with the Dentist to measure for dentures. So what if I need both knees replaced. So what if what hair I have left is grey. So What? I'm still here and there's not much more than that anyone could ask for. My glass is not only half full, but it's half full with Champaign!
Of course we all have regrets. The only one that stands out for me is that my dad never lived to see my beautiful wife and children. (see The Only Enemy [2]) But he was surely around on August 26, 1950. Back then the father was not allowed to be part of the delivery. He had to wait till they brought the baby to the nursery to be viewed. But dad was a free spirit with an 8mm movie camera; state of the art in 1950. So Dad was hiding in the closet and came out right after I was born.
Fast forward 60 years and thanks to Dad I was able to give my Mom a digital 'Time Machine' that goes back to the 1940s. Seven decades of memories on a small video screen at the touch of a finger; state of the art – 2010.
So here it is: a rare family film of a new baby minutes after he was born on August 26, 1950…
Thanks Dad and of course; Happy Birthday Mom…