– The Bottom Line –
There's none so blind as those who will not see.' So let's try to make it easier for these people; Like the famous 'Duck Theory','The Muslim Theory' also speaks direct:
If he was born a Muslim, celebrates with Muslims, supports The Muslim Brotherhood, bows down to a Muslim King, and quotes from "The Holy Koran", then he is a Muslim.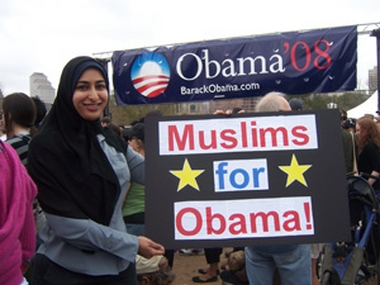 And how about 'If there is enough evidence to make a separate category called 'The Muslim President' then "where there's smoke there's fire"…
Here's the latest 'circumstantial evidence' that proves 'beyond a reasonable doubt' that Obama is a Muslim.
Obama Refused Cardinal's Prayers at DNC but Lists Muslim Jumah Prayers as "official function"
Posted by Pam Geller on August 26, 2012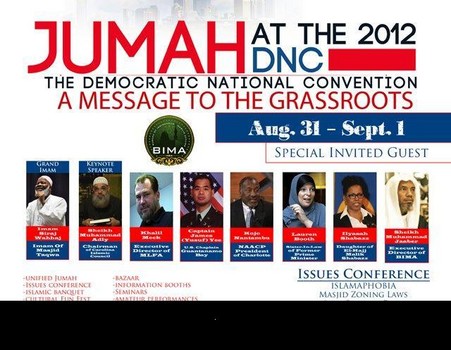 Last week I posted about the Jumah jihad at the DNC, an event led by an imam who urged the overthrow of the "filthy" U.S. government and who was named an unindicted co-conspirator in the World Trade center bombings. Obama's DNC lists the assembly as an "official function." The group is hardly "mainstream," being represented by Siraj Wahhaj, who will be the "Grand Imam" for the gathering.
Wahhaj and the co-leader of the Charlotte event, Jibril Hough, are both heavily involved in the separatist American Islamist movement. Many of the participants in the "Jumah at the DNC" will most likely represent radical networks that have long-time, but little-known, operations in the Charlotte region.
Looks like Obama is engaging in his own holy war. At a speech in 1995, Siraj Wahhaj informed the world that it was his "duty and our duty as Muslims to replace the U.S. Constitution with the Quran."
But the Cardinal is not welcome.
"Cardinal sin: Bam blew off DNC blessing"
WASHINGTON — President Obama turned down a chance to have Timothy Cardinal Dolan deliver a prayer at the Democratic National Convention after Dolan told Democrats he would be "grateful" to deliver a blessing in Charlotte.
Read Complete Post at