– The Bottom Line –
One of the most interesting and satisfying interviews ever. Here's the All American work ethic and spirit on display and embodied in a one young man who is a 'Poster Child' for the very kind of man who built this country.
Around minute 38 of the video:

Seal Team Six member 'Mark Owen: "They told us we had a couple days off and I grabbed my keys and went and got in my truck and, and a, I didn't put it in the book, yeah I hit Taco Bell on my way home, hit the drive-thru. a couple of tacos, and a ate it in my car right there and then go home."

Interviewer: "You were part of the team that killed Osama bin Laden and the first thing you do when you get back to the United States is go to Taco Bell"? Owen (smiling): "Two Tacos and a Bean Burrito, routine…."
Here's the full interview from 60 Minutes: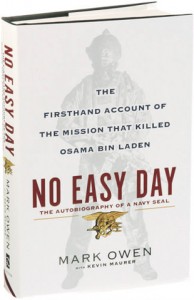 [1]Purchase Book