– The Bottom Line –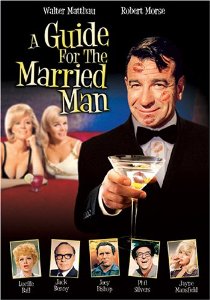 One of my favorite comedy movies of all time is the 1967 film "A Guide For The Married Man." If you have never seen it, put it on your list; it's 89 minutes of hilarity by an all star cast.
Directed by Gene Kelly and staring Walter Matthau, Robert Morse, and Inger Stevens, it is notable for a large number of cameos by Hollywood comedians and starlets of the period, including: Lucille Ball, Jayne Mansfield, Carl Reiner, Jack Benny, Sid Caesar, Art Carney, Joey Bishop, Linda Harrison, Sue Ane Langdon, Majel Barrett, Wally Cox, Phil Silvers, and others. Here's the trailer:
Of course the purpose of this post is not to introduce you to a classic comedy, but to make a point on the first term of Barack Obama. (you may forget reading this post but not this movie!)

Elaine Devry seduces Walter Matthau:in "A Guide for The Married Man"
Dorothy Rabinowitz in this piece from The Wall Street Journal uses a classic skit from the movie as an analogy of the first 4 years of rule under Obama.
The Unreality of the Past Four Years
The Benghazi fiasco is a brutally illuminating portrait of the Obama White House in crisis mode.
Posted by Dorothy Rabinowitz on October 21, 2012
In the 1967 film "A Guide for the Married Man," a husband, played by a peerless Walter Matthau, is given lessons in ways to cheat on his wife safely. The most essential rule: "Deny! Deny! Deny!"—no matter what. In an instructive scene, he's shown a wife undone by shock, and screaming, with reason: She has just walked in on her husband making love to a glamorous stranger.
"What are you doing," she wails, "who is that woman?"
"What woman, where?" the husband serenely counters, as he and the tart in question get out of bed and calmly dress.
So the scene proceeds, with the distraught wife pointing to the woman she clearly sees before her, while her husband, unruffled, continues to look blankly at her, asking, "What woman?" Confused by her spouse's unblinking assurance, she gives up. Two minutes later she's asking him what he'd like for dinner.
For much of the past four years, the Obama administration's propensity for asserting views of reality wildly at odds with those evident to most rational citizens has looked increasingly like a page from that film script.
All administrations conceal, falsify and tell lies—this is understood—but there's no missing the distinctive quality of the prevaricating issuing from the White House in these four years.
Read Complete Post at