– The Bottom Line –
Some 40 years ago John Kerry sat in front of a Congressional committee and lied and slandered American soldiers like any true liberal traitor would do. Today he continues his treason by carrying out the policy of Barack Obama and again supporting an enemy of The United States. Only this time it's our stated enemy fighting in Syria; the Islamists.
"Don't ever underestimate the sincere stupidity of the pink cheeks and white shoes who run America's foreign policy – now fronted by a genuine idiot, John Kerry. Once again, the lunkheads are trying to "strengthen" the "moderate" Islamists in an Islamic country so we might wield influence after the secular bad guy is gone. Not that this inane theory hasn't been shown to be a miserable blunder in the very recent past. In Iraq, Afghanistan, and Egypt, where much American blood, treasure and prestige has been invested, the "moderates" we helped rise to power quickly got in touch with their jihadist side, picked up the shiny toys we gave them, and promptly stabbed us in the back." – DF
First we need to be reminded of the background of this self serving power hungry scumbag. And then you can see his latest act of treason in sending our money to support an enemy whose latest attack in Boston everyone is familiar with.
SO-CALLED "WAR HERO" JOHN KERRY A FRAUD – SELF-PROCLAIMED "WARRIOR" STRONGLY OPPOSED BY "NAM" VETS HE SMEARED DURING HIS CONGRESSIONAL TESTIMONY – NEW EVIDENCE KERRY LIED ABOUT FIRST PURPLE HEART "WOUND" – VAST MAJORITY OF VIETNAM VETS – BOTH DEMOCRAT AND REPUBLICAN – TO VOTE AGAINST JANE FONDA'S "PAL" KERRY, A MAN WITHOUT HONOR, UNFIT TO BE "COMMANDER-IN-CHIEF"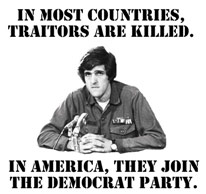 Never in the history of American politics has this country's military veterans been so united in their opposition to a particular Presidential candidate.
The disgraceful actions of self-proclaimed "war hero" John F. Kerry have so incensed legitimate Vietnam veterans, that most of them – both Democrat and Republican – plan to vote against the left-wing Massachusetts Democrat on Nov. 2nd.
"I would crawl over broken glass to pay him back for what he did to us," said Vietnam vet Felim Doherty, a registered Democrat in Bloomfield, N.J.
The former Air Force NCO said Kerry's testimony before Congress back in 1971 was "full of lies and slander" against the vast majority of Americans who served in Vietnam with honor and integrity.
"For him to try and make out we were killing babies, raping women, cutting off ears and – in his words – rampaging every day through the Vietnamese countryside like the hordes of Genghis Khan – was and is a smear and slander of my brother Vietnam veterans.
"This self-proclaimed war hero doesn't talk much about his days running around with Jane Fonda, giving aid and comfort to our enemies. I wonder why?"
Retired Capt. Danny Howell of Florida, a Republican and Marine staff sergeant during his hitch in Vietnam, praises the Swiftboat Vets for their exposure of Kerry's dubious "combat" record.
"Only 120 days in-country and he puts himself in for a Purple Heart for scratches we wouldn't bother to report to the corpsman. This guy was punching his ticket and used a loophole [three Purple Heart wounds and you got to leave Vietnam before your required 12 month tour of duty was up] in the regulations to get out early. What a disgrace!
"I saw Marines with serious wounds – arms shattered, their guts hanging out, an eye gone, sucking chest wounds – that is what the Purple Heart is meant for, not for a grain of rice hitting you in your butt!" read more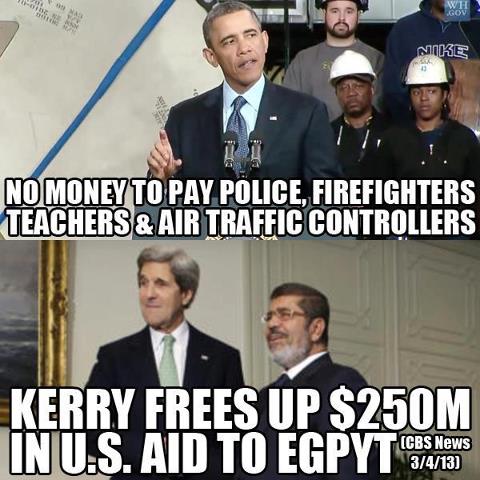 U.S. Doubles Aid to Syrian Rebels, Who Still Want More

ISTANBUL (TheBlaze/AP) — The United States said Sunday that it will double its non-lethal assistance to Syria's opposition as the rebels' top supporters vowed to enhance and expand their backing of the two-year battle to oust President Bashar Assad's regime. …
U.S. Secretary of State John Kerry announced the new package of assistance in a written statement at the conclusion of the conference that began Saturday afternoon and stretched into early Sunday. …
Read Complete Post at