'As it is often said, the first step in solving the problem is in admitting the problem exists.'
There are just so many important points made by Erik Rush in this article that it is a must read for anyone who cares at all about this country and the world today.
Especially noteworthy is his description of Islam. Although tame compared to one I would put forth, it is 'right on the money';
Examined historically, Islam is an unattractive creed. I refuse at this point to call it a religion. It is a creed with a religious component, or as others have said, a political system with a religious component. It has contributed nothing positive to the human condition in the aggregate over its 1,400-year existence; most of the noteworthy achievements ascribed thereto by historians and scholars were essentially stolen from conquered cultures. It is at once primitive, xenophobic, spiritually stultifying, misogynistic and cruel. What can be observed over the history of Islam is little more than pure aggression, misappropriation and destruction. …
Obama and Islam: A poisonous synergy
Exclusive: Erik Rush explains why Americans of goodwill deny 2 dangerous realities
Published: 09/25/2013
… The American people have been betrayed in two areas that may be seemingly unrelated, but play to the same sentiments I've described. They concern our president, Barack Obama, and the creed known as Islam. The character of both have been distorted to compromise Americans' better judgment, goodwill and compassion. …
What I am saying – and why I have chosen to discuss these together – is that the confluence of threats posed by Barack Obama and Islam are the most serious existing threats to the survival of this nation. In very short order, either could exact an extremely grave toll on America, chiefly because Americans' better judgment, goodwill and compassion have been compromised. Our human proclivity for denial in this area – in admitting to having been taken – presents at least as great a danger as those posed by Obama and Islam themselves. …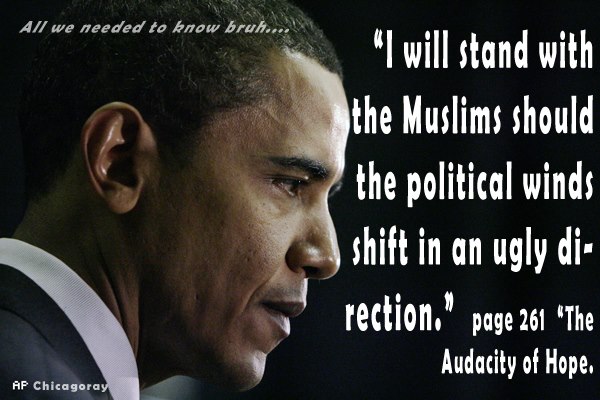 [1]Harsh measures – at least in the eyes of compassionate Americans – will be necessary to neutralize these threats, particularly on the domestic front. Our president is not only ideologically opposed to the American paradigm in general, but the Islamist forces with which he is allied are vigorously advancing their agenda here as well as abroad. Two deadly threats are enjoying a poisonous synergy on a global scale.
As it is often said, the first step in solving the problem is in admitting the problem exists. The maladies of which I speak are potentially fatal ones, so I pray that enough Americans recognize these deepening symptoms soon.
Read Complete Post at

[2]