A President who loves and respects his country and the Christian people.  Boy could we use one of them…
"Nobody, regardless of the extent of their terror, can erase our cultural and human history" Syrian President Bashar Assad

Syrian President Assad reportedly visits Christian village
Posted on April 20, 2014 by AP – President Bashar Assad on Sunday toured a historic Christian village his forces recently captured from rebels, state media said, as the country's Greek Orthodox Patriarch vowed that Christians in the war-ravaged country "will not submit and yield" to extremists.
Syrian state TV and the country's official SANA news agency said Assad was in Maaloula, inspecting the damage done in recent fighting to its monasteries and churches.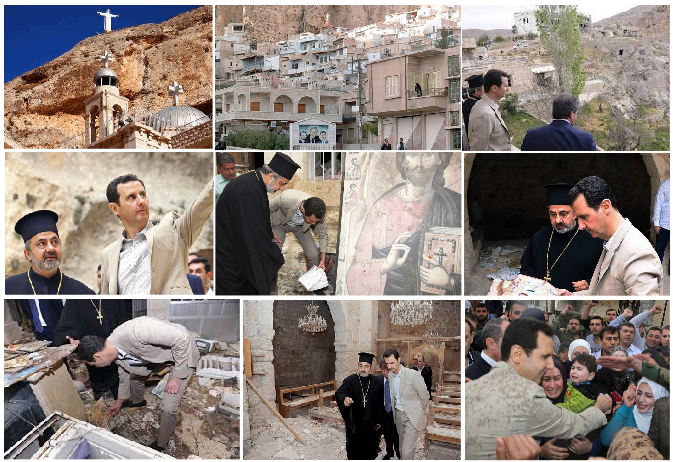 The rebels, including fighters from the Al Qaeda-affiliated Nusra Front, took Maaloula several times late last year. Their last attempt to capture and hold on to the ancient Christian hamlet came in mid-December. Government troops swept through the village on Monday sending rebel fighters fleeing to nearby hills.
Maaloula is located some 40 miles northeast of Damascus and is home to a large Christian population. The army's triumph in the village was an important symbolic prize for the government in its quest to be seen as protector of religious minorities, including Syria's Christians, who have largely supported the Assad family's decades of rule.
During his visit to the village Sunday, Assad promised to defend Christians and protect churches that he said were part of Syria's cultural heritage.
"Nobody, regardless of the extent of their terror, can erase our cultural and human history," a report by SANA quoted Assad as saying as he surveyed damage to Mar Takla Greek Orthodox monastery. Despite damage to holy sites in the village, Assad told state TV that "Maloula will remain steadfast in face of barbarism of of all those, who are targeting the homeland."
Read Complete Post at