Four Muslims Gang Rape 7 Year Old Christian Girl So Brutally That She Must Go To The ER [1] – A seven year old Christian girl in Pakistan, named Sara Iqbal, was gang raped by four Muslim men so brutally that she had to go to the hospital in critical condition.
Muslim Mob Takes Christian Man, Hangs Him By His Feet And Severely Tortures Him [2] – A mob of 150 Muslims attacked a Christian man's home in Pakistan, seized him and then severely tortured him by hanging him by his feat and savagely beating him with sticks. The Christian man's name is Amanat Masih.
Egypt Cleric Issues Fatwa Allowing Wives to Get Raped [3] – More of Islam's empowering of women.
Apparently the whole unforgiving honor code goes out the window when a man might be in danger.
Muslims Charge Into Hospital And Murder Sixteen People [4] – Muslims in Central Africa charged into a hospital and opened fire, killing sixteen people, including three humanitarians working for the medical charity, Doctors Without Borders.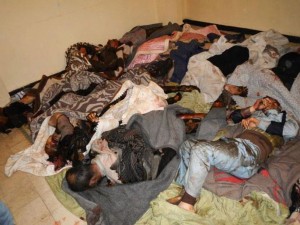 [5]
62% of all Deaths in Nigeria This Year Due to Islamic Murderers [6] – Of the 2,596 people who died in Nigeria in the first three months of this year, 1,614, or 62%, were due to Boko Haram murders.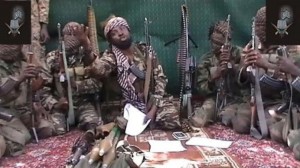 [7]
Arizona Muslim claims Islamic Law (sharia) gives him right to kill wife [8] – The thing is, he's right. Sharia does give him that right.
Jihadist group 'crucifies' bodies to send message [9] – Warning – This gallery contains graphic images. Hello! Wake Up Ignorant & Suicidal Western Civilization This is how Islam spends it's time after Friday 'prayer services' at the Mosque…
Philly: Muslim strangled pregnant girlfriend to death for not wearing hijab [10] – Both mother and unborn baby were killed.  Jury selection started Monday morning in the case of a 28-year-old man who allegedly strangled his pregnant girlfriend inside a one-bedroom efficiency apartment …
Muslims Murder Christian Man Right In Front Of His Son, Drag His Body To The Mosque, Tie His Body And Mutilate Him [11] – Three hundred homes, 100 businesses, 15 churches and about 10 Christian organizations were destroyed in my province…Christians in Egypt are expecting death at any time…
'Sex Jihad' Fatwa Permits Incest in Syria [12] – "Saudi cleric Nasser al-'Umar issued a fatwa permitting mujahidin [jihadis] in Syria to have sex-jihad with their sisters if no one else is available.
Egypt Cleric Issues Fatwa Allowing Wives to Get Raped – See more at: http://pamelageller.com/#sthash.qLVpV8YJ.dpuf
Egypt Cleric Issues Fatwa Allowing Wives to Get Raped – See more at: http://pamelageller.com/#sthash.qLVpV8YJ.dpuf