–  The Bottom Line  –
I am very sorry to admit that my opinion of the Catholic Church and indeed all of Christian Churches is not very high.   I consider most of the Popes and Pastors  'blind, deaf and dumb' as is most of the Western world when it comes to exposing and confronting the barbarian cult known as Islam.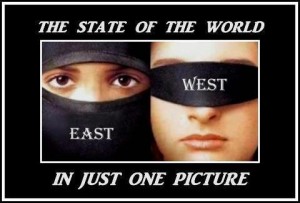 But perhaps there is hope with the new Pope.
Pope Francis has a new secretary who speaks Arabic and has very clear words about Islam. It is no coincidence.

The new secretary, Father Yoannis Lahzi Gaido, is a Copt from Egypt, where Christians are a beleaguered minority who have had experience with Islam for 1,350 years. His realistic view of Islam lacks any Western gloss.
Let's cross our fingers and pray that Father Gaido can influence Pope Francis and start exposing the truth and the reality of Islam to all those who are influenced by 'the wolf  in sheep's clothing.'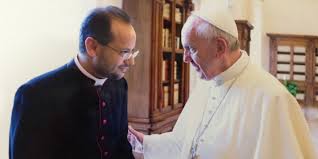 The Pope's New Secretary: Islam Is a 'Culture of Death'
Posted on
May 4, 2014

by creeping – Pope Francis has a new secretary who speaks Arabic and has very clear words about Islam. It is no coincidence.
Father Yoannis Lahzi Gaido:  "I have always tried to be a friend that respects the different religion of the other, without being afraid to tell the truth or to emphasize that Christianity is a call to freedom.

And when Magdi asked me about the Copts in Egypt, I did not hide the enormous difficulties under which Christians must live in places with a Muslim majority.

These difficulties are not caused by a few Islamists, but by a culture of death and violence that is based on very clear verses [of their scripture] that they quote, calling for violence and jihad, saying they should murder all who are different and killing [those who express] freedom of conscience. Just to think differently is enough to be sentenced to death."
In his book "Grazie Gesù"(Thank you Jesus) that Allam published in the year of his baptism, he wrote about Father Yoannis Gaido:
Father Yoannis Lahzi Gaido, an Egyptian, deserves a special mention. [He was] for years chaplain to the church of Santa Domitilla in Latina and is currently Secretary of the Apostolic Nunciature in Brazzaville.

I met him in Rome, and he has given me years of friendship and expressed his solidarity [with me].

He has a profound knowledge of the real Islam, as it is actually present in the hearts and minds of the majority of Muslims, and not distorted by the ignorance, naivety, good nature and ideological blindness of the West, which is exploited by mystifiers and hypocrites.
Read Complete Post at