–  The Bottom Line  –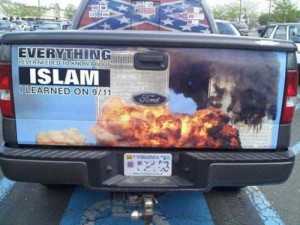 There is a saying that "All I need to know about Islam I learned on 9/11"   Anyone not blind, deaf and dumb will agree.  But for those who still will not face the truth of this enemy, this video leaves no doubt about the reality of the death cult known as Islam.
It is said that 'We are all God's children.  This video is unfortunately final proof of how absurd this statement is…
– WARNING:  A VERY GRAPHIC VIDEO OF ISLAM DOING WHAT THEY ARE ORDERED BY THEIR 'GOD' ALLAH (real name: Mohammed) TO DO –

Koran Verse 47:4- "Therefore, when ye meet the Unbelievers (in fight), strike off their heads; at length; then when you have made wide Slaughter among them, carefully tie up the remaining captives"
Muslims Shoot Innocent People, Behead Them While They Are In Agony, And Then Twist Their Heads Completely Off
Posted on May 5,2014 by Shoebat Foundation – … But shooting the POWs wasn't enough, Sharia demanded they also get beheaded. So while the victims were dying, the terrorists hover over one victim and shouts: "quickly remove his head, remove his head, film it and show what we do to [Bashar] Al-Assad's dogs".   
Then like wolves they gathered their cellphones to record the gory scene with complete joy. And while one beheads one of the Syrian POWs as if he was sheep, the other tells the butcher who was carving away on the victim's neck: "Yes twist the head twist it, very good", until the head was completely removed.
Read Complete Post at