Now we're talking.  To all those Vegans and all those 'health food nuts' (who more than often die earlier than us junk food aficionados) , I give you Pizza Cake!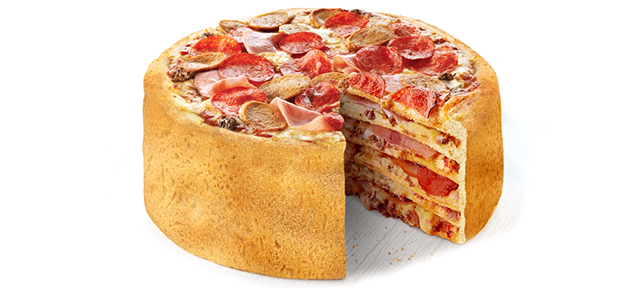 [1]And besides I hear that they don't have this stuff in heaven, or hell, so let's just sit back and enjoy it while we can…
This pizza cake can change civilization FOREVER
Posted on April 19, 2014 by Jesus Diaz  –  This is not something you can buy yet but—come this summer—you may be able to order Boston Pizza's Pizza Cake, a clear sign of the demise of our civilization, which apparently has been replaced by a bunch of reckless individuals with no sense of what's good or evil.
Boston Pizza is asking its customers what they want to see in their summer menu. They gave them some options to vote: The pizza cake is number one in the count by a wide margin. The only caveat: You would have to live in Canada in order to be able to have this crazy invention. But fear not, is it successful, I'm sure a million rivals would follow all around the United States. It's the perfect food to make everyone fat, fast.   read more… [2]