Muslims Take Three Hundred People, And Butcher All Of Them In Twelve Hours [1] – In the Nigerian town of Gamboru Ngal, Muslims came on the attack, and in twelve hours, butchered three hundred people.


Muslims Make Savage And Sinister Mass Executions, And Film Them [2] – Here is a mass execution done by Muslims. Before the execution was done, the executioner said: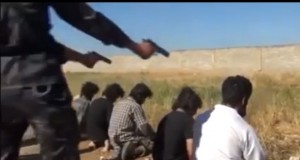 [3]Muslims Shoot Innocent People, Behead Them While They Are In Agony, And Then Twist Their Heads Completely Off [4] – But shooting the POWs wasn't enough, Sharia demanded they also get beheaded. So while the victims were dying, the terrorists hover over one victim and shouts: "quickly remove his head, remove his head, film it and show what we do to [Bashar] Al-Assad's dogs". Graphic Video


Muslims Trap Human Beings In Markets And Stores, And Burn Them Alive [5]– This happened in the most recently horrific attack on Christians in Nigeria, in which 300 people were slaughtered.


Two Muslims Cut Young Boy's Body Into Pieces, Cook His Flesh In Curry, And Eat Him [6] – Two Pakistani brothers, Mohammad Arif Ali and Mohammad Farman Ali, were arrested after police caught the severed head of a young boy in their home.