–  The Bottom Line  –
On 9/12/2011, (In answer to them and their 'God' which they screamed was so great "Aluha Achbar" as they butchered 3000 innocent people) there should have been  been 2 cities turned into dust bowls by American Stealth bombers;  Mecca and Riyadh, both in Saudi Arabia, the origin of the money and the Islamists who attacked our country.
There would have been no need to do anything else.  No 5000 young Americans dead.  No trillion dollars spent to bring freedom to people whose ideology and indeed 'religion' is based on conquest and submission. 
The Islamists would have gotten the message in the only language they understand, death and destruction.  And you can 'take it to the bank' (HERE) that there would have been very few, if any Islamist attacks since then as the Islamists retreated understanding that they could now face total elimination.  Once the 2 major Islamic cities were vaporized, the Islamists would have no doubt that they had awoken the "paper tiger" and that now it would call on it's ferocious power and strength to eliminate any predators.
As they have done before in history, their terrorist attacks would lie dormant until they sensed 'the tiger' (The West) was asleep again.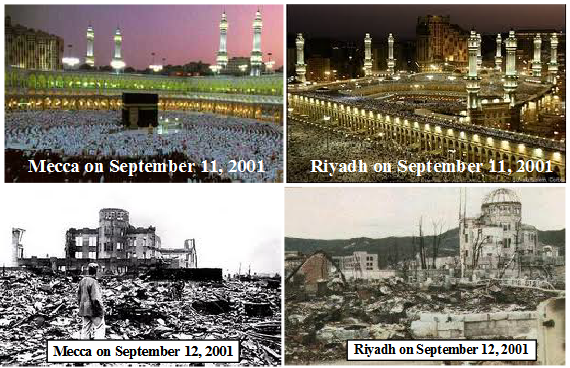 Yes, this is sick to even think of .  That is until you see this: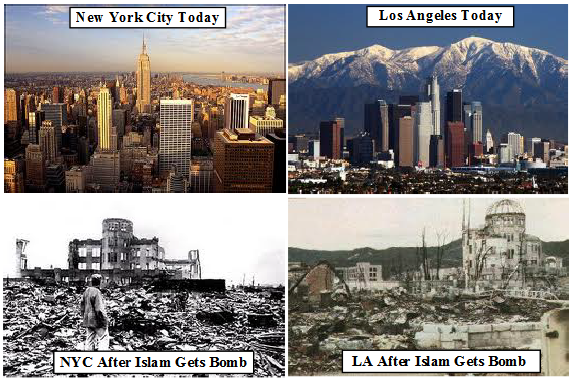 And if you think this is ridiculous then let me remind you what these 'people' are capable of with just some box cutters: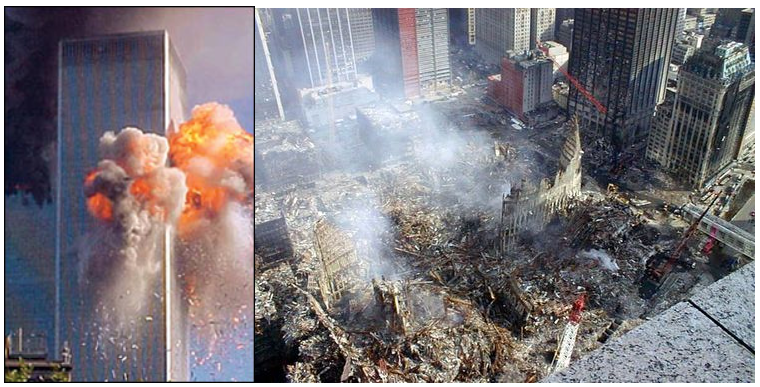 ANY QUESTIONS?
Here's the latest evidence out of the enemy's home base:
Saudi Prince Pledges $900,000 to Jihadi Who Kidnaps Israeli Soldier
Posted by Pam Geller on October 29, 2011
(Reuters) – A member of the Saudi royal family has pledged $900,000 to a bounty offered by a prominent cleric to any Palestinian who kidnaps an Israeli soldier, according to comments aired on a private TV station Saturday.
Prince Khaled bin Talal, a brother of Saudi billionnaire Prince Alwaleed bin Talal, told Daleel television over the phone that he decided to contribute to Awad al-Qarni's bounty after the Saudi cleric received death threats for offering $100,000 to capture an Israeli soldier.
"Dr Awad al-Qarni said he was offering $100,000 to only take a prisoner but they responded by offering $1 million to kill Awad al-Qarni," Prince Khaled said, according to a recording of the call published on Daleel's website.
"I tell Dr. Awad al-Qarni, 'I will be in solidarity with you and pay the remaining $900,000 to take an Israeli soldier prisoner so that other prisoners can be freed,'" he added.
See Original Post at