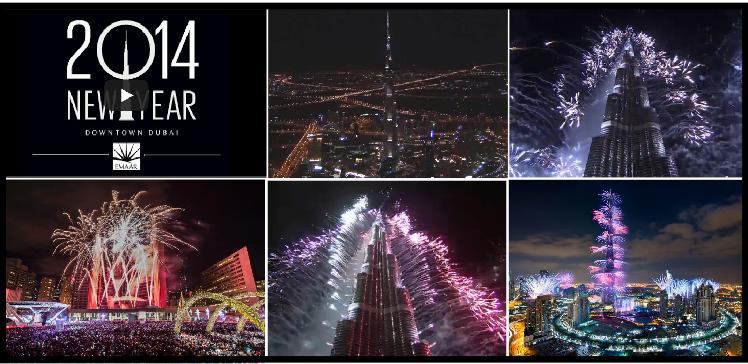 This city is amazing.  It's a must see if only to witness what has been done with so much of the money that you've pumped into your gas tank the last 50 years….
I was there and just passing through it is a sight to see.  It is more Westernized than our cities here in America!  Which begs the question; why has this city remained untouched by those 'terrorists' who hate the ostentatious Western culture???   This topic can wait for another day.
For now sit back and enjoy this beautiful production.  I have edited the full tape down to the highlights along with the link for the full show.

Dubai Set a Record With Its NYE Fireworks Show
Posted on January 1, 2013 by Liz Kimas
Leave it to Dubai, one of the most opulent cities in the world, to ring in the new year with a record-setting bang.
The United Arab Emirates city put on what the Guinness Book of World Records deemed was the largest fireworks display of all time.
The show, which took about 10 months of planning, included a half a million fireworks and lasted about six minutes. Some of the city's most notable landmarks were featured in the display, including Palm Jumeirah, World Islands, the Burj Khalifa and Burj Al Arab, according to Guinness.
"The scale of this record attempt is truly impressive and will ensure all eyes are on Dubai," Alistair Richards, Global President of Guinness World Records, said in a statement ahead of the record-breaking attempt.
Although setting off 500,000 fireworks took less than 10 minutes, the show as a whole lasted 30 minutes with music and lighting effects.
The performance was designed and coordinated using 100 computers by Fireworks by Grucci, a U.S. pyrotechnics firm. Hundreds of experts ensured the event went off without a hitch.
The previous record for largest fireworks show was set in 2012 in Kuwait with 77,282 fireworks.
See Original Post at