"To achieve this level of devastation, you usually have to be invaded by a foreign power."
–  The Bottom Line  –
As Mark Styne says in the post below; "It took only six decades of "progressive" policies to bring a great city to its knees."  But the most unimaginable factor in this terrible reality is that even after and when this American tragedy is on display for all to see, the same people, including the black community who was devastated the most, still support and vote for the same liars and ideology that caused this once great city to crumble!
I don't get it!  Are these people that f__king stupid?  The answer unfortunately is obvious…
The Downfall of Detroit
Posted on July 19,2013 by Mark Styne
By the time Detroit declared bankruptcy, Americans were so inured to the throbbing dirge of Motown's Greatest Hits — 40 percent of its streetlamps don't work; 210 of its 317 public parks have been permanently closed; it takes an hour for police to respond to a 9-1-1 call; only a third of its ambulances are driveable; one-third of the city has been abandoned; the local realtor offers houses on sale for a buck and still finds no takers; etc., etc. — Americans were so inured that the formal confirmation of a great city's downfall was greeted with little more than a fatalistic shrug.
But it shouldn't be. To achieve this level of devastation, you usually have to be invaded by a foreign power. In the War of 1812, when Detroit was taken by a remarkably small number of British troops without a shot being fired, Michigan's Governor Hull was said to have been panicked into surrender after drinking heavily. Two centuries later, after an almighty 50-year bender, the city surrendered to itself. The tunnel from Windsor, Ontario, to Detroit, Michigan, is now a border between the First World and the Third World — or, if you prefer, the developed world and the post-developed world. To any American time-transported from the mid 20th century, the city's implosion would be literally incredible: Were he to compare photographs of today's Hiroshima with today's Detroit, he would assume Japan won the Second World War after nuking Michigan.

Detroit was the industrial powerhouse of America, the "arsenal of democracy," and in 1960 the city with the highest per capita income in the land. Half a century on, Detroit's population has fallen by two-thirds, and in terms of "per capita income," many of the shrunken pool of capita have no income at all beyond EBT cards. The recent HBO series Hung recorded the adventures of a financially struggling Detroit school basketball coach forced to moonlight as a gigolo. It would be heartening to think the rest of the bloated public-sector work force, whose unsustainable pensions and benefits have brought Detroit to its present sorry state (and account for $9 billion of its $11 billion in unsecured loans), could be persuaded to follow its protagonist and branch out into the private sector, but this would probably be more gigolos than the market could bear, even allowing for an uptick in tourism from Windsor.  read more…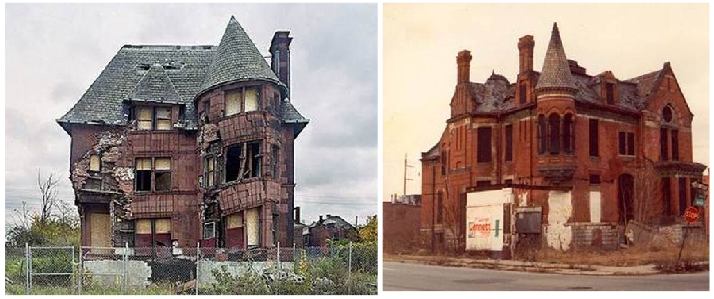 See Also