Using the word 'gay' and choosing the rainbow image to represent the homosexual rights movement were deliberate acts of distraction. – Gary DeMar at Godfather Politics
– The Bottom Line –
It is indeed incredible what a 'great' job the queer community has done in the last 30-40 years. They have just about indoctrinated a whole nation as to their rights to be openly perverted and force this perversion on our family and our nation.
Congratulations queers, excellent propaganda and use of 'the big lie', – civilized society can learn a lot from your success at warping the mindset of a nation.
The Bottom Line is that we must reverse the progress that has been made by these self-serving perverts who believe that their sexual desires are more important than your morals, your religion, your family, Mother Nature and God.' And the way this is done is by countering their lies and propaganda by exposing it over and over again with the truth and the reality of their selfish and dangerous AIDS inducing lifestyle.
Over at The Godfather Politics, the record is set straight and the truth again rises to the top.
A Square Peg Being Hammered into a Round Hole and Not a Rainbow Should be the Symbol of the 'Gay' Rights Movement
Posted on May 13, 2012 by Gary DeMar at Godfather Politics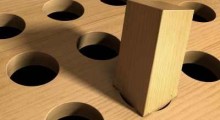 The media are behind homosexual marriage in every way possible. The latest cover of Newsweek leads with a cover story stating that President Obama is "The First Gay President." The President is shown with a rainbow hallow around his head.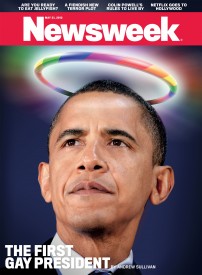 The New Yorker magazine's new cover shows the White House with rainbow columns. Please tell me what a rainbow has to do with same-sex sex? Nothing, and that's the point. Using the word 'gay' and choosing the rainbow image to represent the homosexual rights movement were deliberate acts of distraction. How many times have you ever heard someone describe what homosexuals do that makes them homosexuals?
Read Complete Post at