– The Bottom Line –
Of course no one wants to say it anymore but as the above headline once again proves, HIV/AIDS was born, cultured and continues to be spread around the world by the promiscuous lifestyle and the unnatural sexual acts of homosexuals.
Robert Bazell reports on a new form of cancer that seems to be only affecting homosexual men. NBC Nightly News 06/17/1982
But like so many evils that infiltrate civilized society, the homosexual community has produced a propaganda machine that is nothing less than remarkable. Arguably it is second only to the greatest propaganda machine of all time; the 1400 year old Islamic brainwashing of billions of Muslims and most of The West into believing that Islam is a 'religion.'
Islam has been so successful that even though they freely admit that The West is their enemy and it will destroy them, (and EVER DAY they show us in the world news) The West continues to allow them to immigrate and build their mosques; their centers of propaganda.
And so it is with AIDS. The 'GAY'/SOB (as opposed to Homosexual) 'community' has been so successful with their propaganda lies and smoke and mirrors that the Federal Government spends some 30 BILLION DOLLARS a year of YOUR Tax Money to fight the deadly disease of AIDS,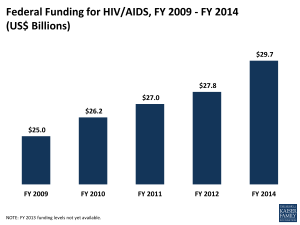 WHILE AT THE SAME TIME:
IT PROMOTES AIDS BY PASSING LAWS GIVING SPECIAL PRIVILEGES TO HOMOSEXUALS, (Those who spread it) AND ALSO MANDATE EDUCATION AND ACCEPTANCE OF THIS DEADLY PERVERSION TO AMERICAS CHILDREN ( Thus sponsoring and endorsing its deadly perpetuation)!
Click on the image for a short list of the aggression and the achievements of the 2nd greatest propaganda machine in history: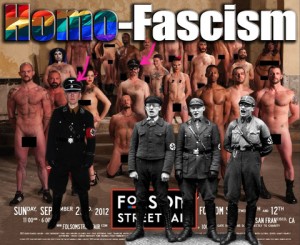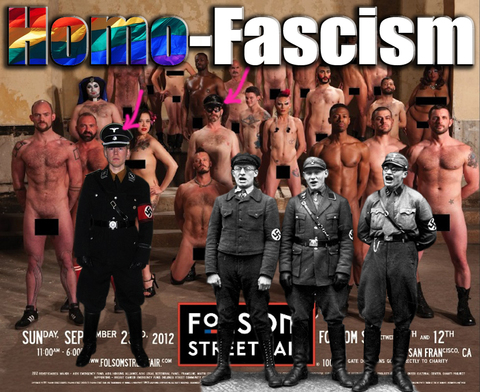 The homosexual movement cannot achieve their goals without eventually resorting to brutal tactics of intimidation and even terror. After lying and personal demonization, this is always the next logical step. And it will continue — and escalate — as long as the population is unwilling to fight back. (More postings to come.) – Mass Resistance
and more…
AIDS Research Funding 4 to 1 Over Cancer?
Total Federal spending on AIDS/HIV FY 2009 = 24.1 billion
Total Federal spending on cancer (all types) = 4.81 billion
Supremes open marriage to homosexuals
Covert Homosexual Agenda: America didn't become pro-gay overnight